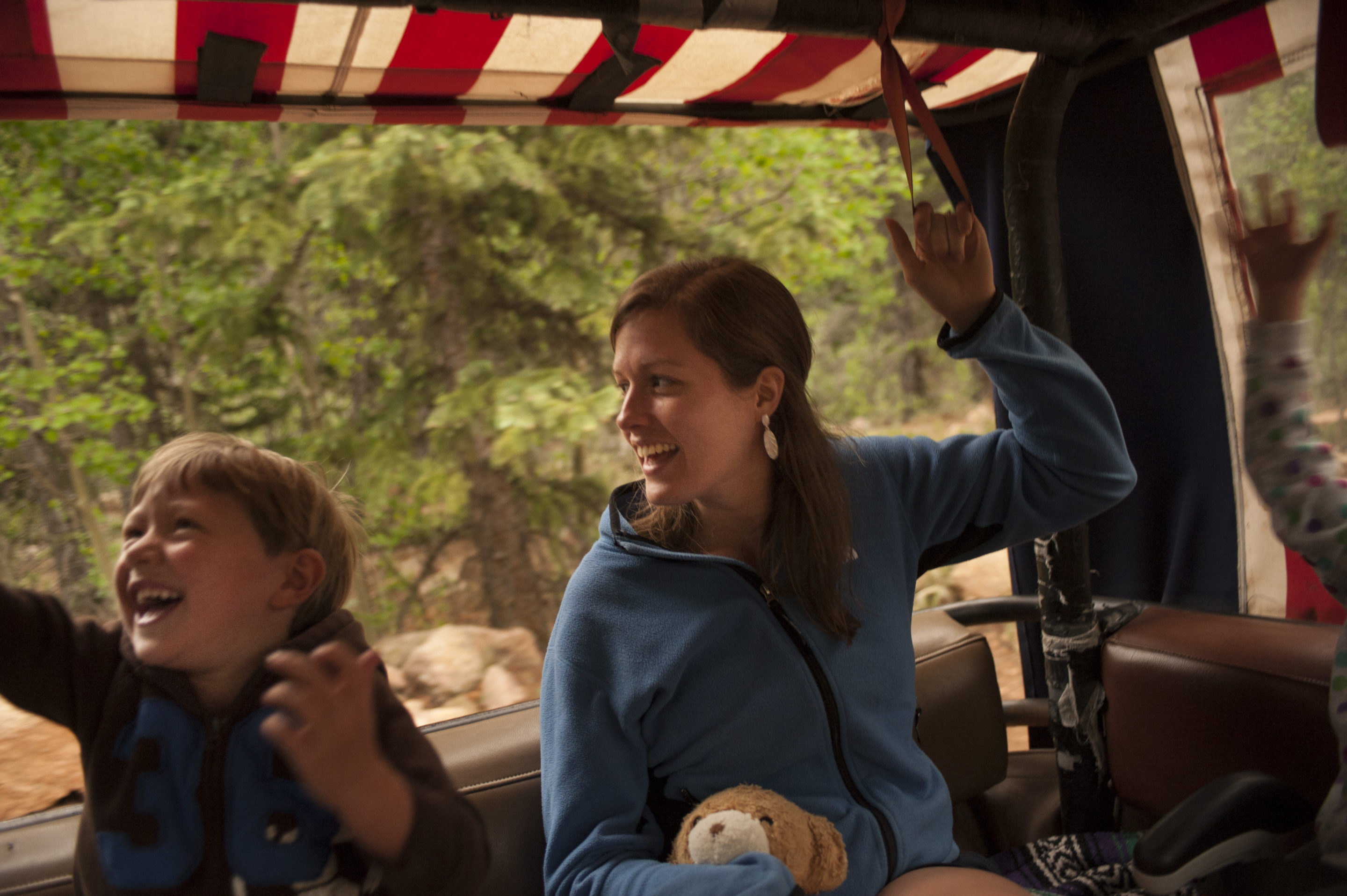 AOW has kids too and we know your needs.  Our Homeschooling POD discounts are designed to keep you and your kids healthy and safe.  Bring your kids or their entire POD to AOW and enjoy the great outdoors this fall.  We can even add biology and history lessons if needed.  
Learn More about this deal
Adventures Out West is your one stop shop for Adventurer in Colorado Springs.  Our Homeschooling discount will get you and the kids out of the house and into adventure. We have several activities and packages to choose from.  You can pick one activity or book as many as you want.  All activities are at a discount and the more you book the deeper the discount. 
This package is offered over an entire month.  Guests will be able to go on 1 activity each week.  For example, if a POD books three activities then they would go on a Zipline in week one, a Bike Ride in week two and a Jeep Tour in week three. The balloon flight will be on Sept. 19th and Oct. 3rd.
This offer is available for Colorado residents only, 17 and under. Individual bookings will be paired with other riders on the tours at out 1:00pm tour time. POD's of up to 10 can will be booked at custom times.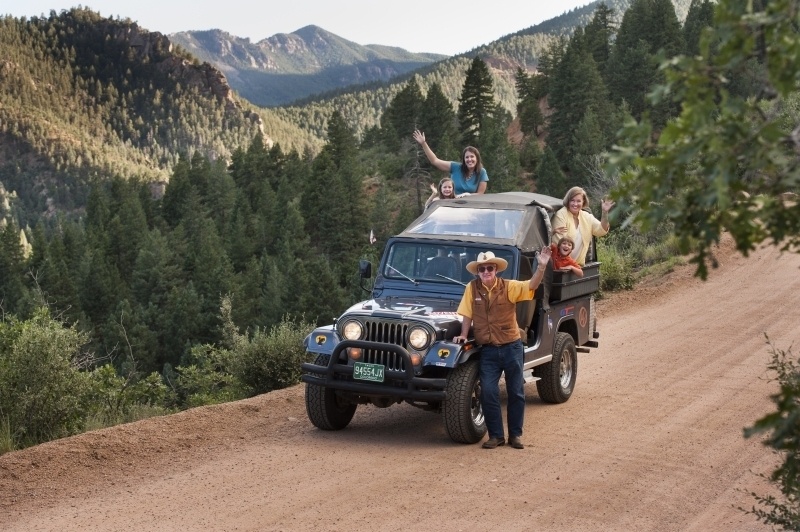 Shortline Jeep Tour
History and Adventure
$39.00 per person. 1:00 PM only. This special rate is only available over the phone.
Your Shortline Jeep Tour is through Cheyenne Canyon and its Awesome Tunnels. The famous route is know for extreme beauty and unique western Rail Road Culture.  Your guide knows all the tall tales and true stories of this area.  Get your feet wet at Helen Hunt falls and learn about Colorado History all at the same time.  If time permit we will have a short stop at the discovery center.  
1.5 hrs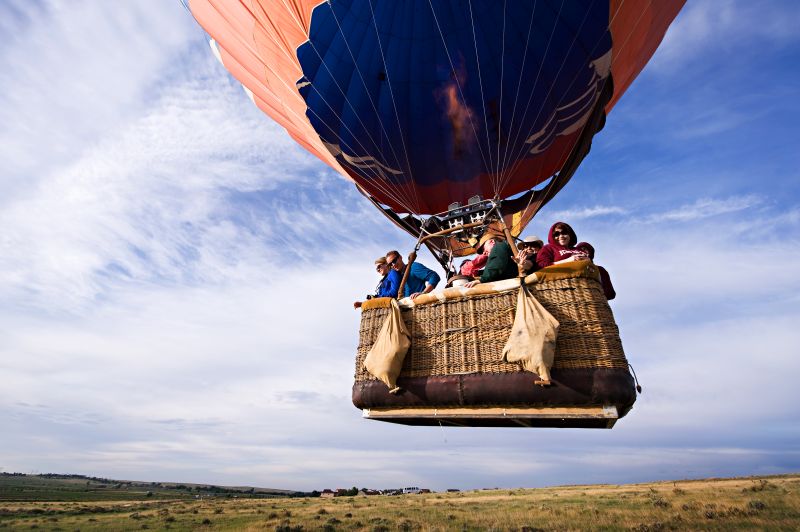 Balloon Tethers
Adventure, Science and  Bucket List
on Sept. 1th and Oct 3rd AOW will offer Tethered Rides.  Our big balloon, Lonesome Rider, will be tethered at our launch field and you can take a short ride in the gentle giant.  The ride lasts about 5 minutes and height is dependent on wind conditions.  This activity is weather dependent and flights will be rescheduled as necessary.  We have a 50 person minimum for this activity.  Groups will be combined to meet the minimum.
$19.00 per guest.  5 guest minimum
8:00am on Friday Mornings.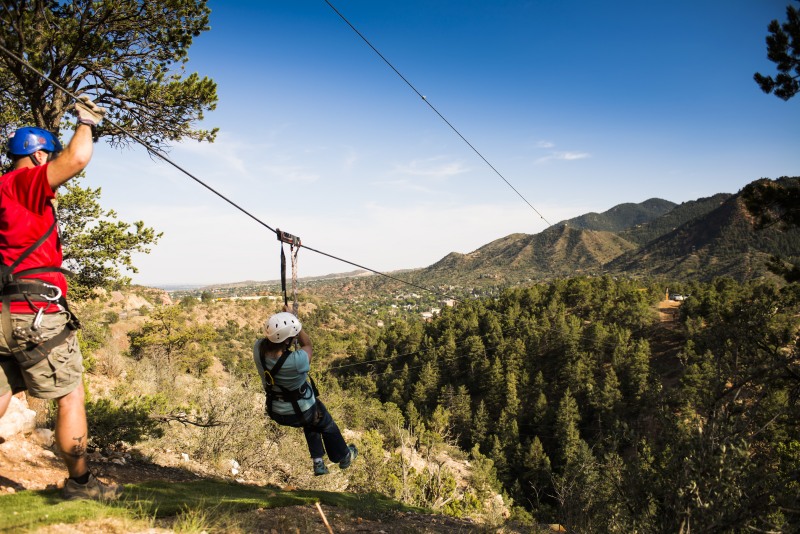 Colo-Rad Zipline Tour
Adventure and Adventure
$49 per guest, plus tax (5%)
1:00 PM tour time only. This rate is only available by phone.
The Best Hour of Adrenaline in Colorado!  Wear out those legs on this adrenalin filled adventure.  As a bonus the kids will hike up the hill to the zipline course cuz Youngsters got energy to burn.  This is our traditional zipline experience with all five lines.  A great deal!
Tour Information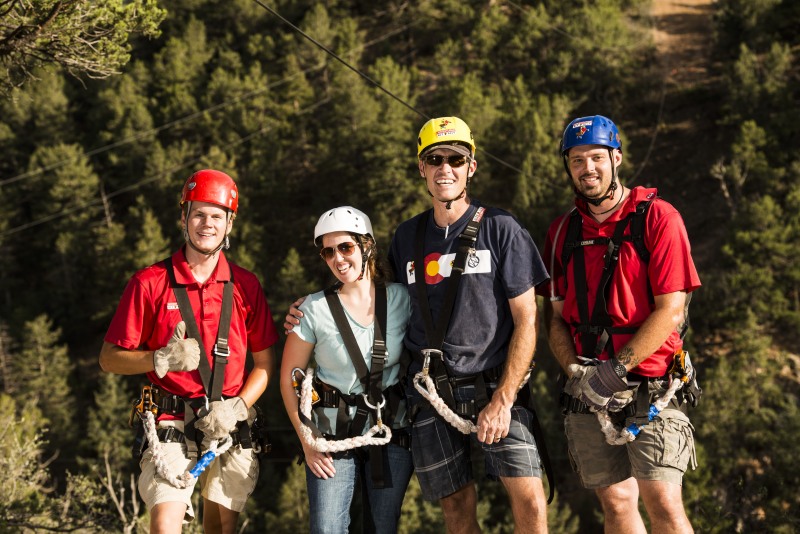 Your adventure starts in the heart of Manitou Springs at our convenient location in Manitou Springs.  Check in at our Cabin is 15 minutes prior to your tour time.  Our staff will fit you with a full body harness and helmet and prepare you for launch.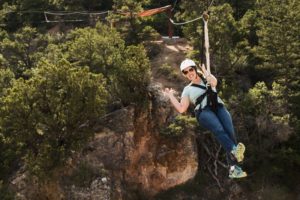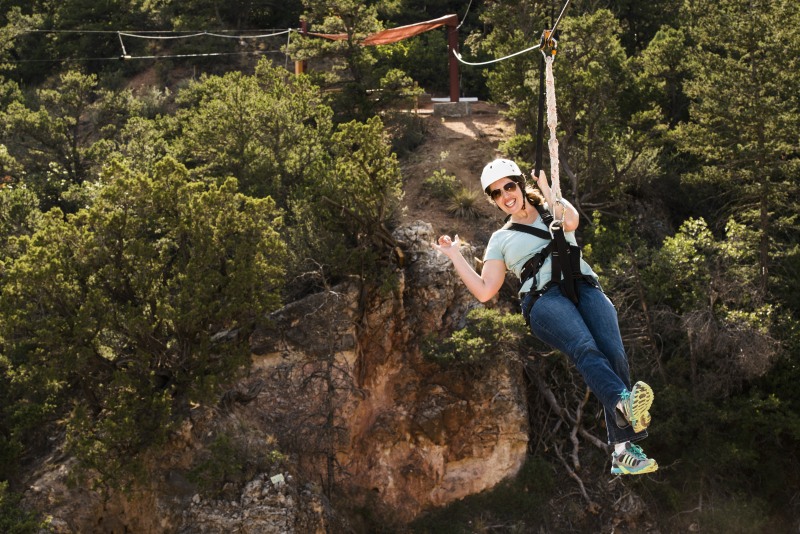 A short trip up the 4 x 4 hill in our custom vehicle will bring you to the Zipline Course.  Our course includes 5 extremely fun ziplines!  Your guides will provide a safety briefing and then its time to ZIP ON!  Run Jump or Crawl and then let your spirit soar!  Our guides do all the braking so you can enjoy the ride.
Summer Season Memorial Day to Labor Day

1st tour 8:30am/ Last tour 3:30pm
Custom times may be available by reservation

Off Season
Group size up to 10 people
5 Ziplines and 4×4 ride
Choose your adventure! Guided  $90.00 plus tax
BOOK NOW   Guided Assist  $90.00 plus tax
Feeling brave?  Looking for more adventure.  And a free T-shirt!  Hook yourself on the Ziplines and let our guide do the braking.  
On this smaller group tour (4-6 guests) your guide will teach you how to assist and then zip on to the other side where they will be waiting to catch you.  You and your friends will be pre-hooked on the line or do it yourself.
BOOK NOW  (Call for information) 719-578-0935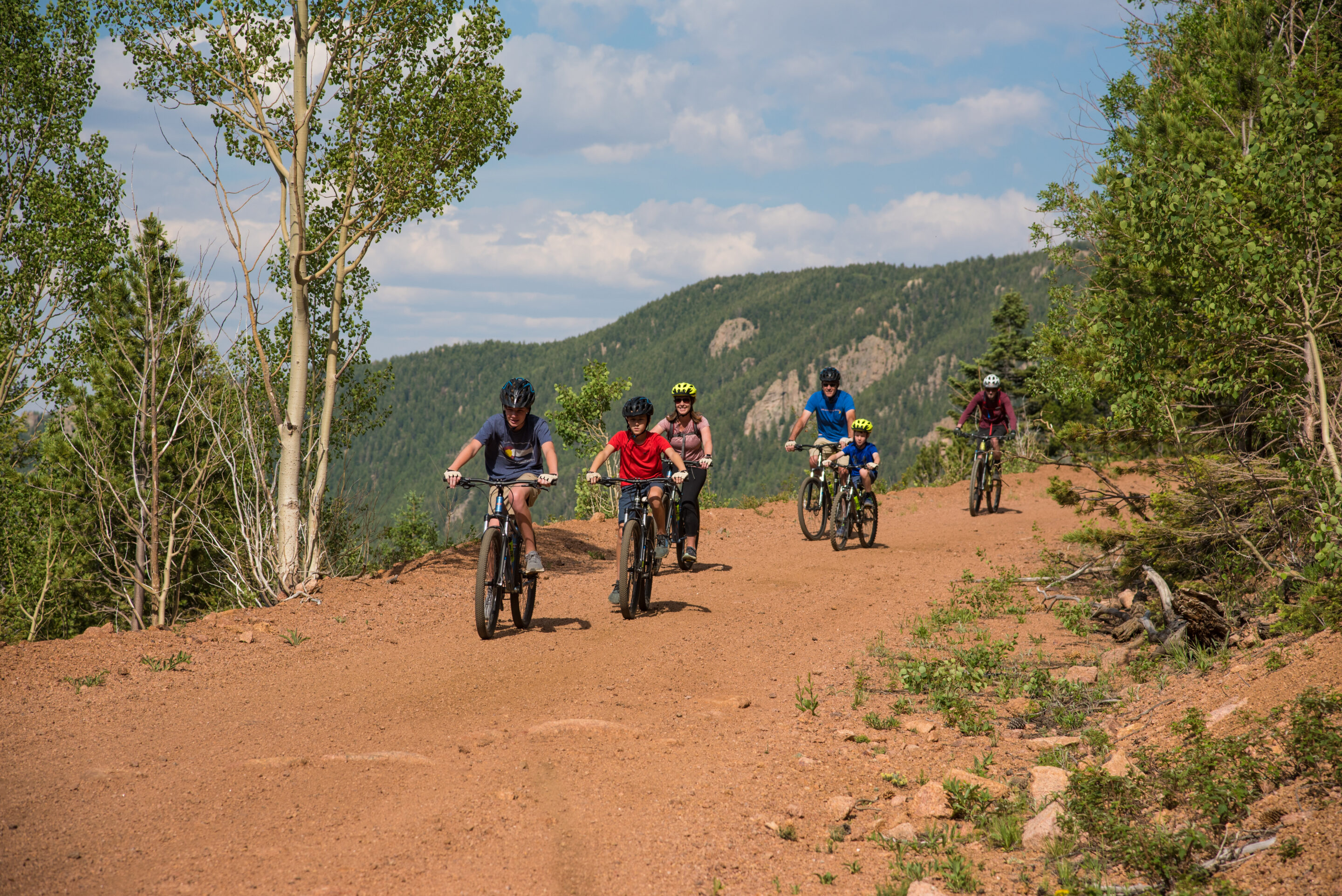 Gold Camp Off-Road Adventure
Adventure and Map Skills
You have struck Gold when choosing this true Mtn. Bike Experience.  (Down hill of course.)  This Self Guided adventure includes all the gear necessary for a successful adventure.  Our team will transport you to the top and then your route follows the old rail road grade from 9,800′ elevation all the way back to town.  Add a guide if needed.  Ask for details.
3-5 hour tour depending on guest ability (PM Departure)
$49 per person.
1:00 PM only. This rate must be booked over the phone.
719-578-0935
Tour Description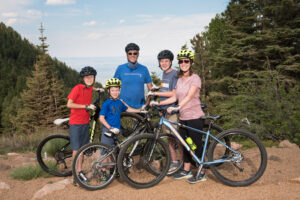 Highlights:
Van or Jeep tour up the world famous Old Stage Road to St Peters Dome View point. (1 hour)
17-mile (Down hill) bike ride from the 9690′  Old Colorado City on a historic railway bed.
Suitable for most ages and abilities, some intermediate sections, loose gravel and awesome tunnels.
Adventure Overview: Take a ride through history… This ride is best suited for anyone who wants a moderate ride but also wants to get off the beaten path.  The route has some intermediate to advanced sections depending on rider ability. Great for corporate adventures!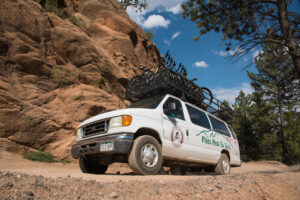 The tour offers great vistas of Colorado Springs, Cheyenne Canyon, and the Eastern plains of Colorado. The 17-mile ride starts at St. Peter's Dome overlook and follows the Historic Gold Camp Road, an old railroad bed used for transporting gold at the turn of the century. We will descend on bike through beautiful aspen and pine forests, old railroad tunnels, and rock formations that will take your breath away.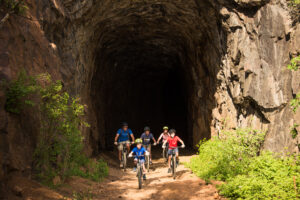 The road is gravel, which at times can be loose. Experienced mountain bikers consider this ride easy with intermediate sections. Those who are new to mountain biking will find the ride a worthy challenge but not too crazy. To do this entire ride plan on it taking four hours. It is easy to shorten the ride depending upon the needs of the group.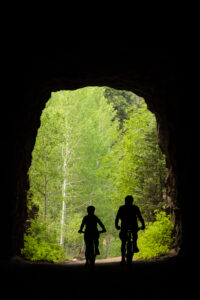 If you're a trailblazer at heart, then sign up for the self guided option. Your group will be on your own once the driver drops you at the trail head.  Some experience with bikes is a good idea as you may have to put your chain back on or perform minor first aid.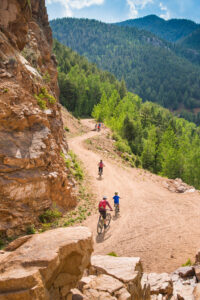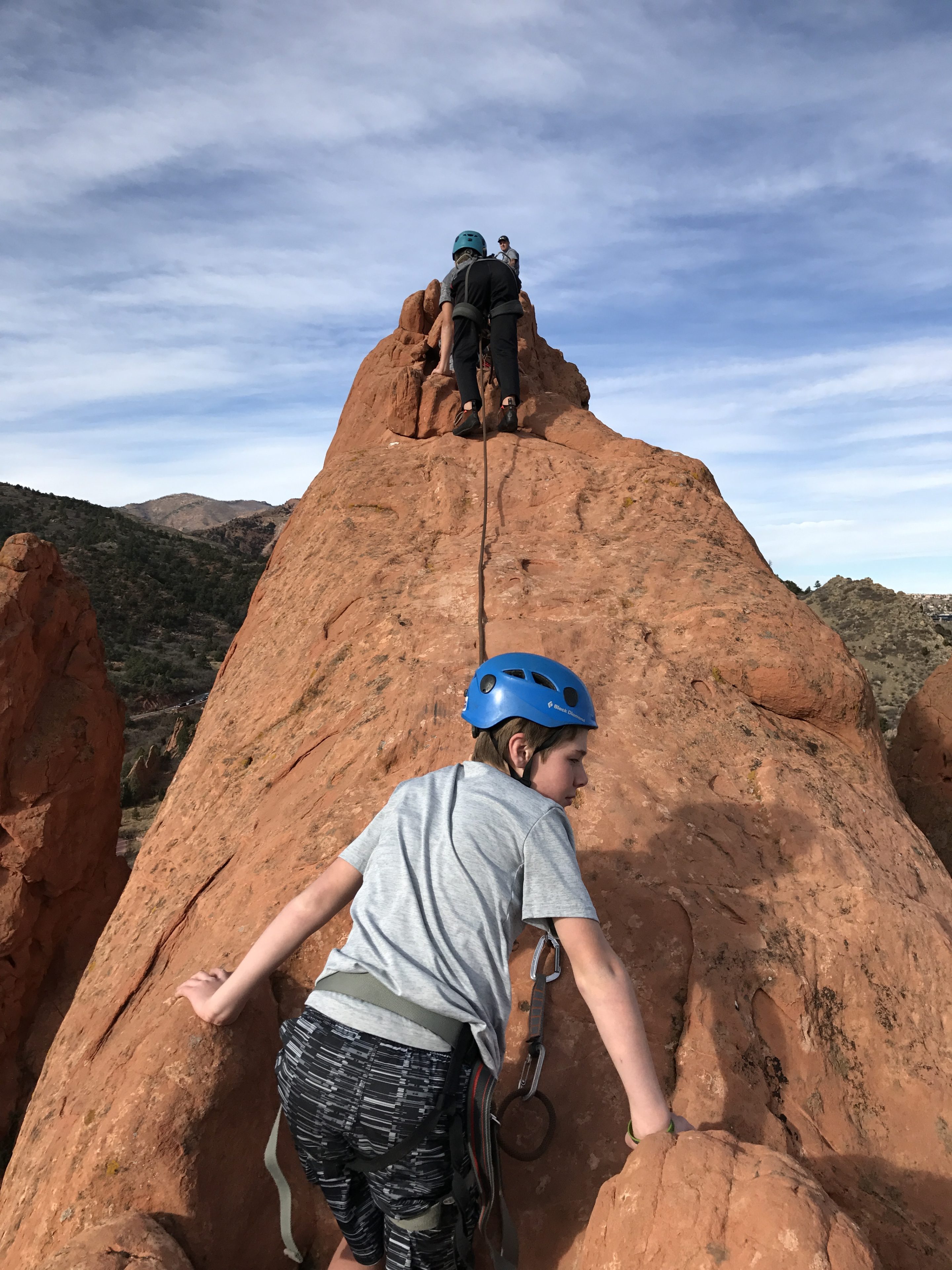 Rock Climbing and Rappel
Adventure and Adventure
$49 per guest
On this 1 hr adventure you will boulder through Tourist Gully, climb the spine of Gateway Rock and rappel back down again.  This combo adventure  includes it all, no experience necessary.  The adventure highlights the Garden and the view from the top is yours alone.  Your group will succeed and push their limits on this surprisingly easy but exception adventure experience.   Rock climbing trips include fantastic and experienced rock-climbing guides and all the gear your group will need. *
1-1.5hrs
This tour is offered at 1:00pm by reservation only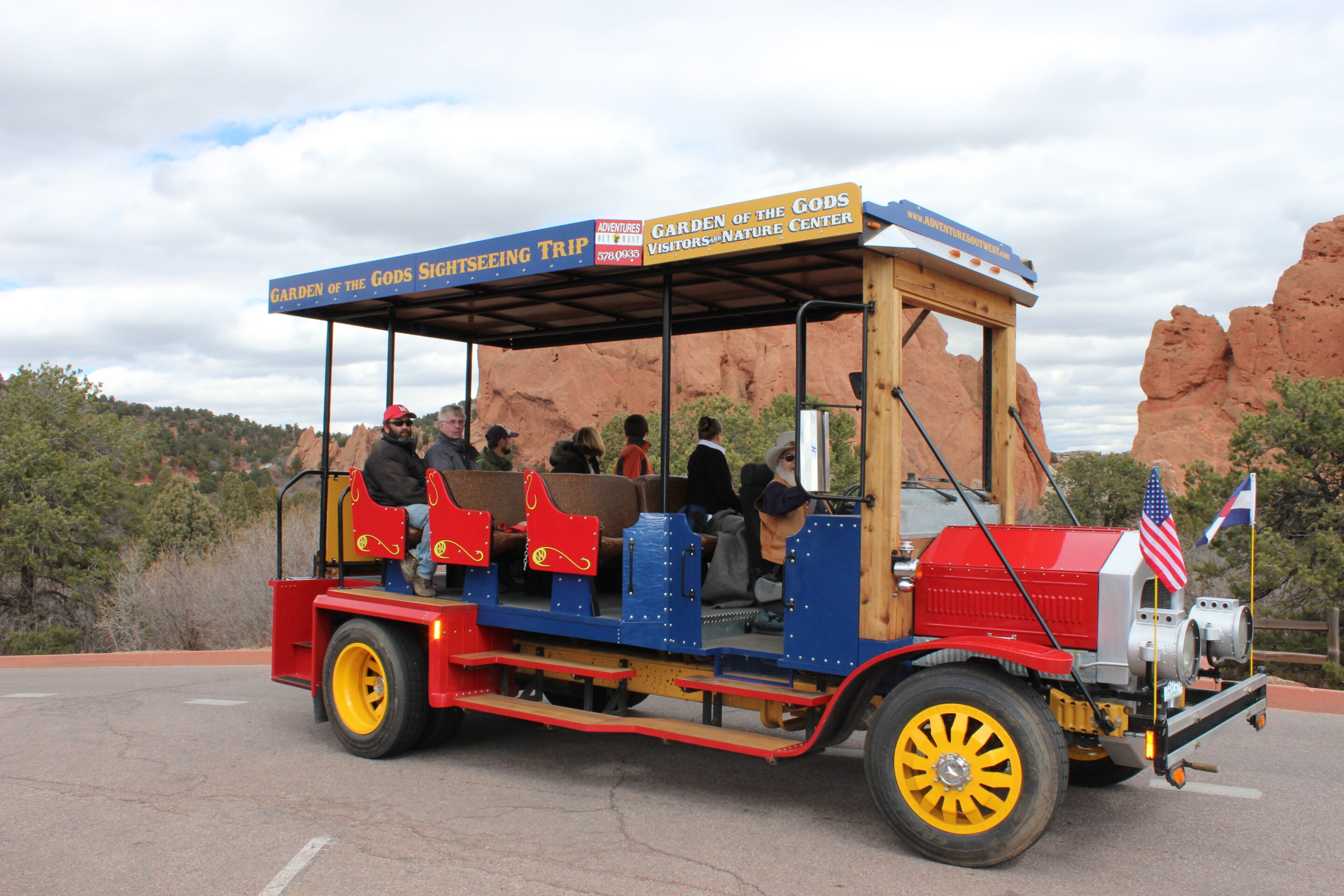 GOG Hike and Trolley ride
History and Adventure
Garden of the Gods Visitors and Nature Center is the base of Adventure.  Come early and explore the Visitors Center then load up in the 1909 Trolley for a tour back in time.  Our western guide will take you into the Garden of the Gods and then drop you off with a docent who will hike you back to the Visitor Center.  Choose your length of hike from 1.5 to 3 mile hike.   This adventure is a gem and bring water!
2 hr tour.
$29.00 per guest.
1:00 PM tour only. This rate must be booked over the phone.
Call to Book 719-578-0935
Easy to book and tons of fun!