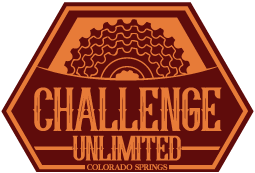 Welcome.  For over 30 years Challenge Unlimited has been the premiere bike tour company in Colorado.  In 2020, Challenge Unlimited became part of Adventures Out West creating the greatest bike tour company on earth.

AOW's 47 years of touring experience and vast array of touring vehicles, innovates and invigorates the biking experiences.  Our custom built Jeeps provide an exceptional tour experience that cant be matched.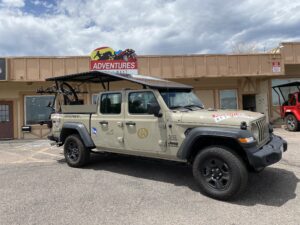 Pikes Peak by Bike– Riding a bike down Americas Mountain is not for the faint of heart.  The adventure is a big mountain experience with certified guides, quality equipment and lots of unknown factors.  Our team is trained to help you navigate the mountain but ultimately you are in control of the bike.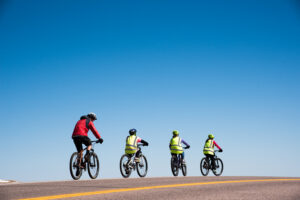 Bike Gold Camp Off-Road is an exceptional experience and a true off-road adventure.  AOW operates under permit of the Pike National Forest and is an equal opportunity employer and provider.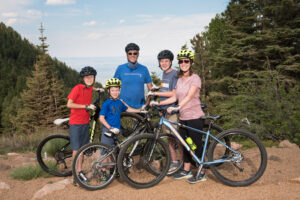 A self guided adventure in the heart of the Colorado Rockies is a must do experience.  The historic route follows an old Rail Road Grade and is an exceptional route with old tunnels and a gentle grade with lots of adventure.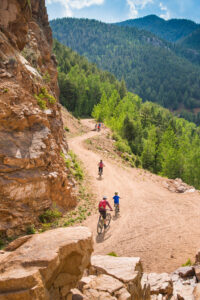 If mountain lions, gravel and route finding are not your best skill set, then we recommend a guided adventure with us.  Our guides will escort you on this true off road experience.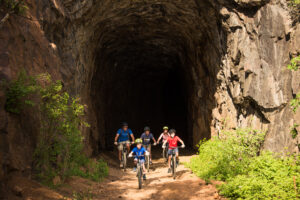 We know you have a choice and hope you choose Challenge Unlimited for your Colorado bike experience.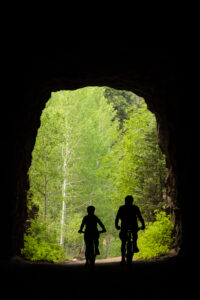 YOUR ADVENTURE STARTS HERE
Come and see the beautiful frosted slopes of Colorado! Below are the tours that operate in the winter season. All tours are weather dependent, so please call ahead.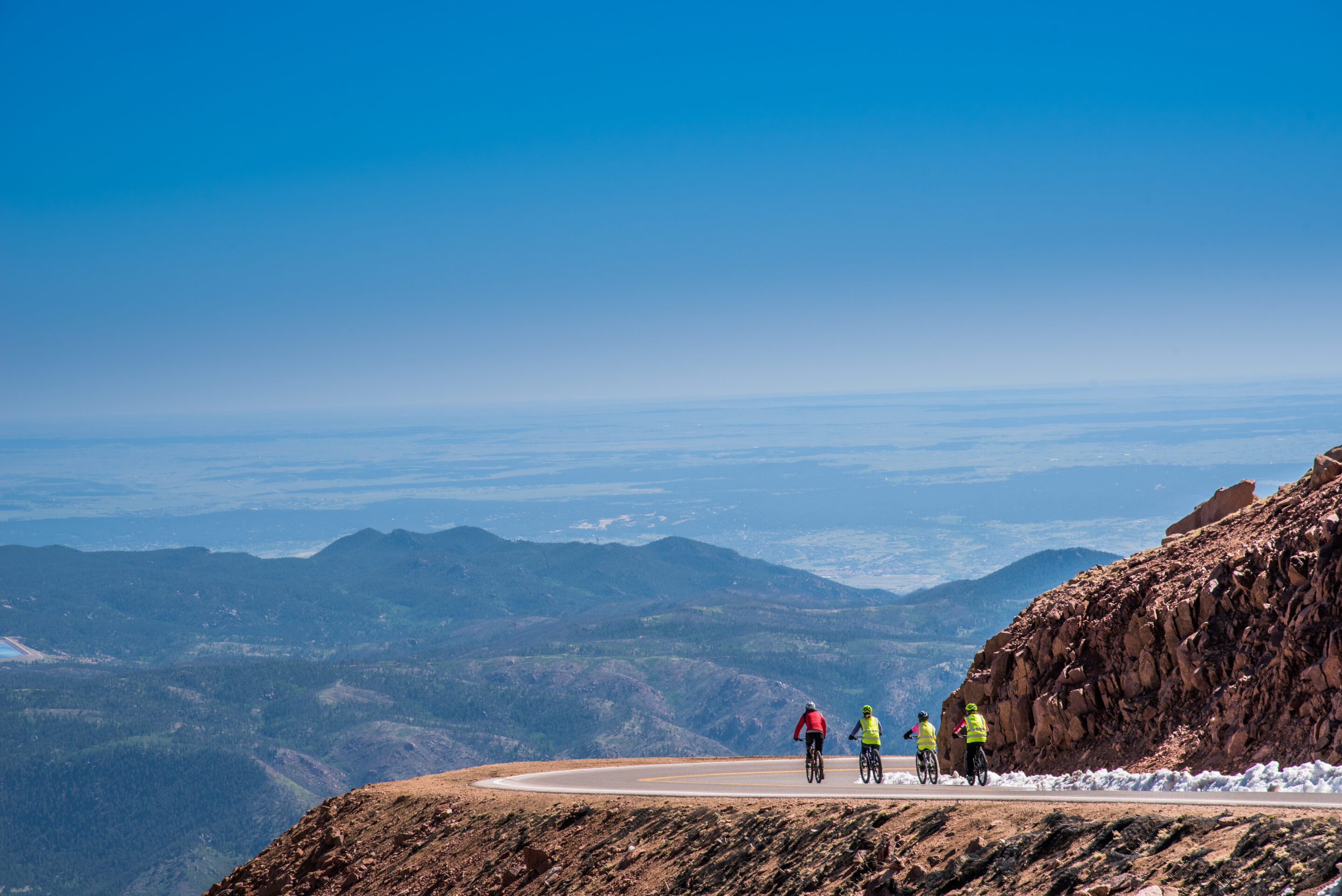 Pikes Peak by Bike
A Colorado original, Pikes Peak by Bike is the highest Mtn. Bike Tour in the US.   19 miles of down hill fun, awesome guides and well maintained equipment creates a once in a lifetime experience.
$159 per guest, all inclusive…..5-7 hours
Closed for the season. Bike tours will resume in May 2021.
Double your fun with The famous Jeep and Bike Combo.  An AOW exclusive, our western guides will add entertainment that can't be beat and a few side roads that are not on the basic bike tour.
$205 per guest…….5-7 hours
And if you add the Zipline, you get a free t-shirt!
Tour Description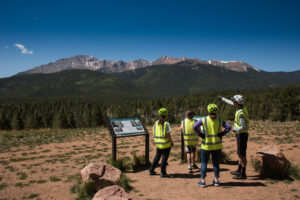 It's your tour and its gonna be EPIC!  Our world famous bike team will ensure your adventure down the mountain is not only fun but safe.  Your tour is limited to (8) guests per tour team.  We also will do our best to match you with other riders of your ability.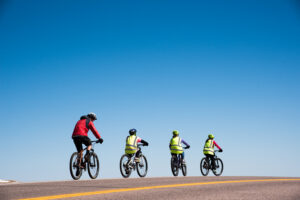 The tour is19.5 miles of scenic cruising with plenty of photo stops.  All gear is provided including, Columbia Summit parkas and snacks to keep you warm on the inside.
Your adventure starts when you meet your team at our Challenge Unlimited office in Old Colorado City.  After check-in we load up in Vans and Jeeps and head for the summit of Americas Mountain.  Our tours leave early in the morning to offer an adventure that is low on traffic and high on beautiful weather.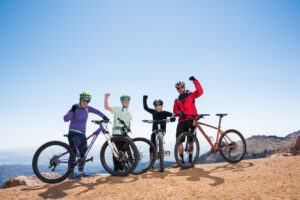 Once at the Summit we will provide a few minutes to take in the awe inspiring view.  Then its time to mount up and ride back down.  7,500 vertical feet of yee-haw!  Our chase van will follow you down to help with any unplanned needs or if you just need to take a break.  The tour concludes with lunch at the Winery at Pikes Peak.
Young, COMPETANT, riders are welcome on our adventure.
Ages 10 and up.
Guests must be at least 4′ 6″ tall.
250 lbs. maximum.
Almost all of the ride is downhill. There are a few brief uphill segments.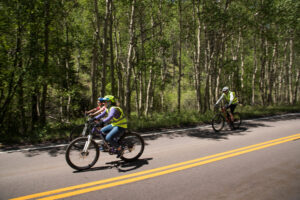 WARNING- Pikes Peak by Bike is considered a high Adventure level tour.  Temperatures will be 30-40 degrees cooler than Colorado Springs and the air is thin.  Most mornings the summit temperature is near freezing.  Dress in layers.  Long pants or sweats or appropriate.  You can put extra cloths in the chase van as you warm up. If this is your first time riding a bike then maybe this adventure is not for you. 
Guests who are uncomfortable with the bike or those who want to come along to watch and experience Pikes Peak with their friends can ride in the van for a reduced fee of $89 for the tour. You, the guest, are in charge of the toy.  People can and do fall.  We have CPR trained guides on tour and hope they are not needed.  Please follow your guide and keep your speeds under control and you will likely have an incident free activity.  PRIVATE TOURS ARE AVAILABLE FOR THOSE WHO PREFER THEIR OWN SPEED.
The Jeep & Bike departs at 7:00 AM and includes a side trip to Catamount Reservoir.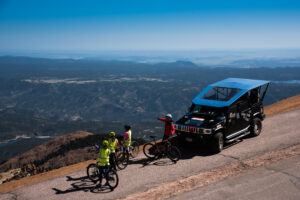 Tour includes     5-7 hours
Western Jeep/ Hummer Tour to the Summit of Pikes Peak (Use of Summit Parkas and Souvenir Tubie)
Hotel Pick-up is available
Side trip to the Scenic Catamount Reservoir for a photo of the summit reflecting in the lake.
Highway Fees
All Bike Gear (Bikes, Helmets, Water and Snacks)
Lunch at Wines of Colorado
The Van & Bike departs at 7:30 AM from our bike office in Old Colorado City.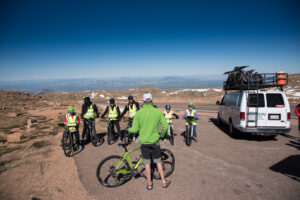 Tour includes   5-7 hours
Van ride to the Summit of Pikes Peak
Highway Fees
All Bike Gear (Bikes, Helmets, Water and Snacks)
Lunch at Wines of Colorado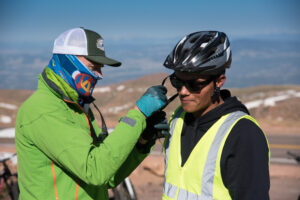 Are you interested in the discounted Zipline Tour to complete the Trifecta?  Call Adventures Out West at 719-578-0935 to get this exclusive deal.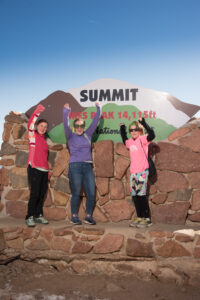 I couldn't resist adding the Zipline and now I own the Trifecta T!   Awesome!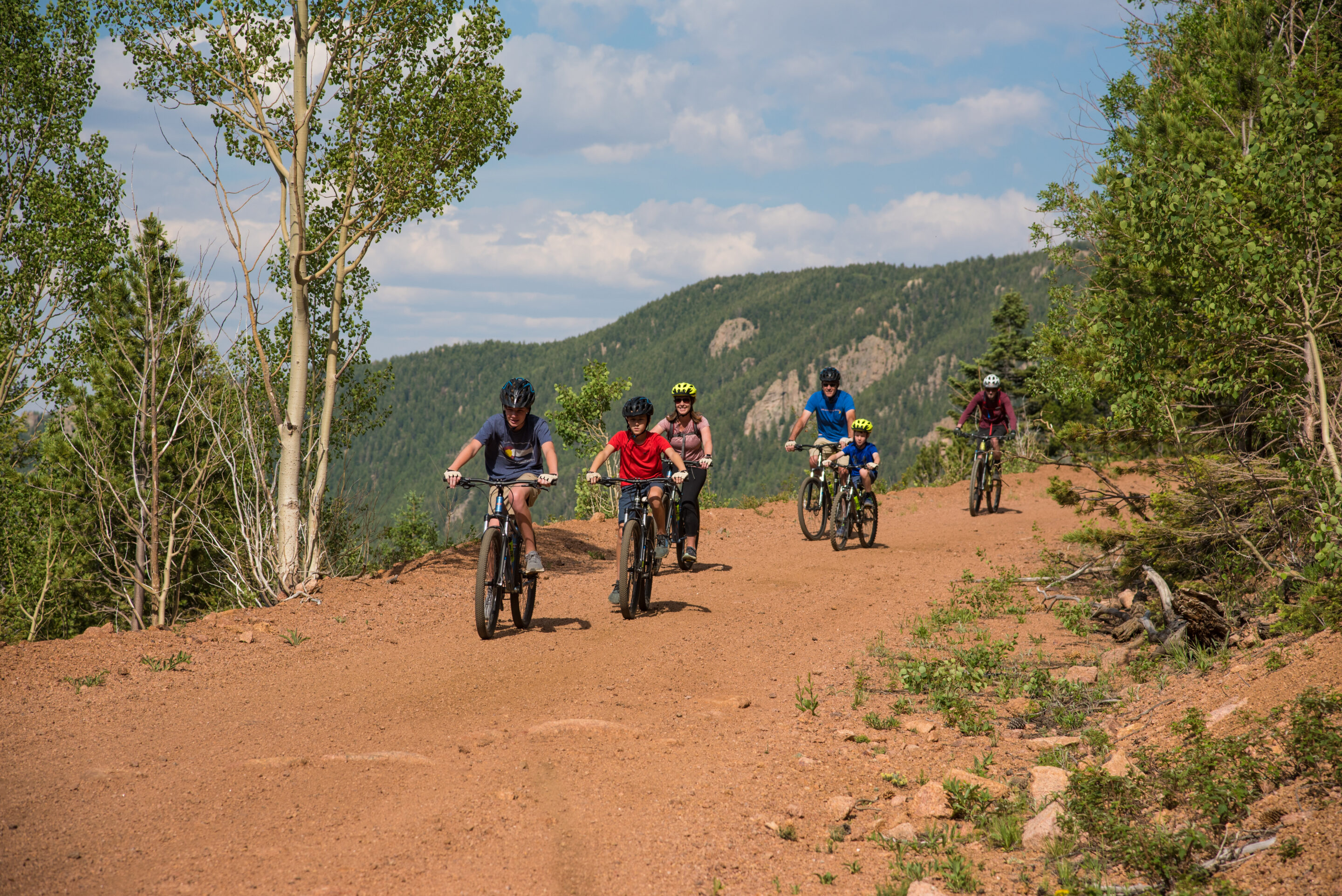 Gold Camp Off-Road Adventure
You have struck Gold when choosing this true Mtn. Bike Experience.  (Down hill of course.)
4-6 hour tour  (PM Departure)
Guided tour $95 per person.
Self-Guided Option $75 per person. 4 person minimum.
Closed for the season. Bike tours will resume in May 2021.
Tour Description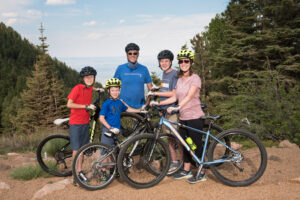 Highlights:
Van or Jeep tour up the world famous Old Stage Road to St Peters Dome View point. (1 hour)
17-mile (Down hill) bike ride from the 9690′  Old Colorado City on a historic railway bed.
Suitable for most ages and abilities, some intermediate sections, loose gravel and awesome tunnels.
Adventure Overview:
Take a ride through history…
This ride is best suited for anyone who wants a moderate ride but also wants to get off the beaten path.  The route has some intermediate to advanced sections depending on rider ability. Great for corporate adventures!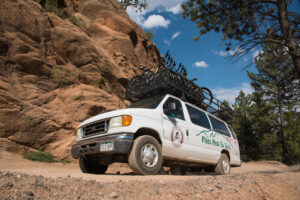 The tour offers great vistas of Colorado Springs, Cheyenne Canyon, and the Eastern plains of Colorado. The 17-mile ride starts at St. Peter's Dome overlook and follows the Historic Gold Camp Road, an old railroad bed used for transporting gold at the turn of the century. We will descend on bike through beautiful aspen and pine forests, old railroad tunnels, and rock formations that will take your breath away.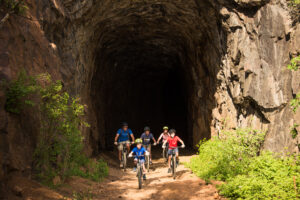 The road is gravel, which at times can be loose. Experienced mountain bikers consider this ride easy with intermediate sections. Those who are new to mountain biking will find the ride a worthy challenge but not too crazy. To do this entire ride plan on it taking four hours. It is easy to shorten the ride depending upon the needs of the group.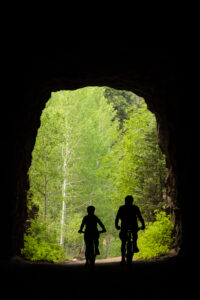 If you're a trailblazer at heart, then sign up for the self guided option. Your group will be on your own once the driver drops you at the trail head.  Some experience with bikes is a good idea as you may have to put your chain back on or perform minor first aid.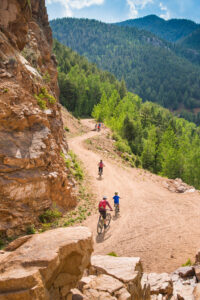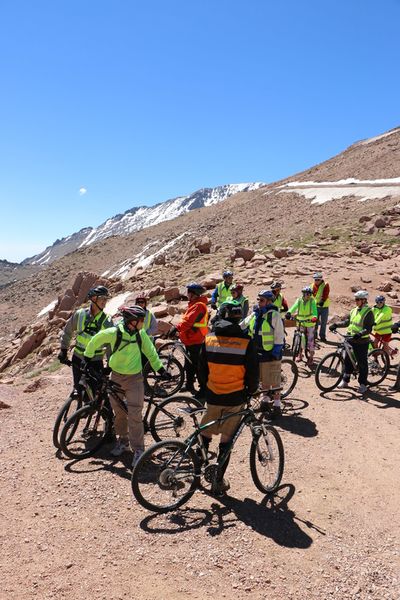 Group Tours
AOW offers customized adventures for you and your team.  Group Tour Operators, DMCs, Team building, Scavenger Hunts,  AOW has your needs covered.
Call us for more information.
Closed for the season. Bike tours will resume in May 2021.
I had done Pikes Peak before but this tour was way better!