Employment Opportunities
Come Live the Dream with AOW!
AOW's vast array of activities provides plenty of work opportunities for uniquely qualified, responsible, seasonal individuals. Our family oriented business environment is a clean and healthy. Fast paced and never without a challenge, being on the AOW team is a rewarding if not challenging, job opportunity. Our employees fast become family and the team grows stronger each year as we add more characters to the mix. A wide variety of Jobs are available, from guides to sales and support staff. Each role is equally important in keeping the wheel turning. All employees are expected to pitch in on all aspects of the company if asked. Team Work, Team Work, Team Work.
The characteristics of a person who does well at AOW is once retired and living a new dream in Colorado. Innocent to mature, our average aged employee is 50 years old plus(14-72). Typically in good health, happy, friendly, Positive, and Spiritual. They enjoy the outdoors and are proud of where they live. They enjoy showing it off to folks who have not experienced Colorado before.
AOW is a seasonal employer, with the bulk of the work from Memorial Day to Labor Day. This is a low profit margin industry in a variable market economy. Guides who cross-train for a couple of jobs will get more work and preferential work duties. I am proud of the wages our employees earn. Our employees make good money, for shorter periods and keep flexibility in their lives.
AOW is a drug-free work environment. Any worker's comp injuries or guest accidents will be drug tested and investigated.
Guides are required to be neatly presented with clean and complete uniforms. Men must be clean shaven or manicured beard, no visible tattoos, no expanded ear piercing holes or any other visible piercings. Females cannot wear more than one earing.
AOW is an equal opportunity employer. We treat each other with respect and expect the same in return. Disrepectful or calus employees agree to quit.
Please send us an email, call or stop on in if you are serious about Livin' the Dream!
Click here for application
Thank you,
Greg Wellens, President
Job Positions available for 2018.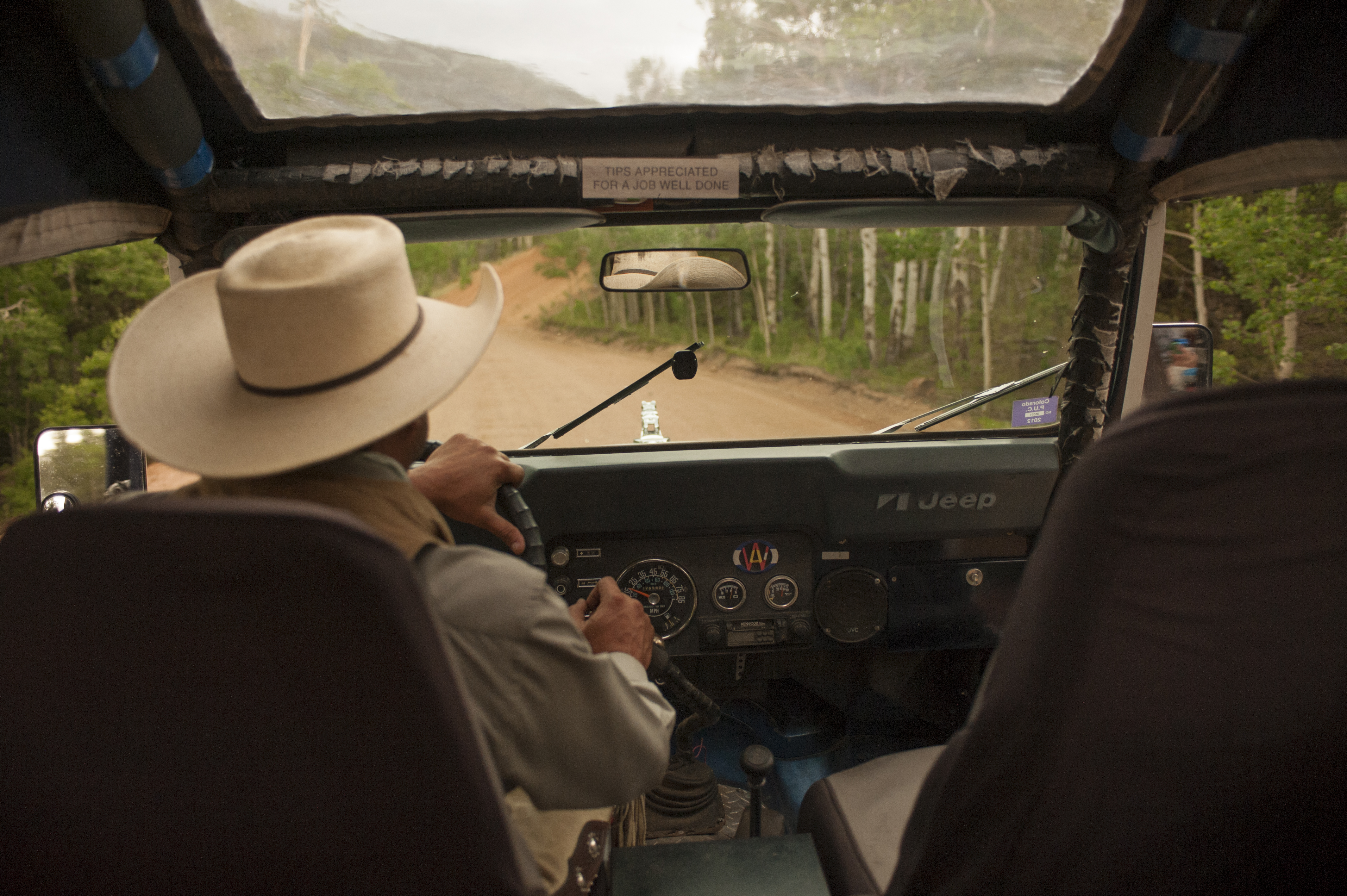 Colorado Jeep Guides
Wanted: Cowboys and Cowgirls with clean driving records. Applicant must be over the age of 25, no felonies, and must pass a physical. Applicant must be comfortable driving standard transmissions and have 4×4 driving experience. Applicants with local knowledge of Colorado Springs and its history will be given preference in hiring. Jeep tours are casually paced, scenic sightseeing activities. The more you know, and the better you entertain, the better the whole experience will be for you and the guest.
Guides are required to dress Western. An AOW- logoed vest will be provided and guide is required to provide and wear cowboy boots, cowboy cut jeans, western shirt and cowboy shirt. This is Western- based entertainment and hospitality, and guides are expected to oblige (To Insure Proper Service, tip your hat to the ladies, or dudes, to increase your TIP). Gratuities are about 20% of your pay, if not more.
Jeep guides is a seasonal part time position. You will be very busy from Memorial Day to Labor Day. Tours are from 2 to 8 hours long. Guides are responsible for vehicle preparation and tour delivery. Training is provided. Pay is by the tour and usually includes a guest gratuity. (Average $15.00 hr plus.)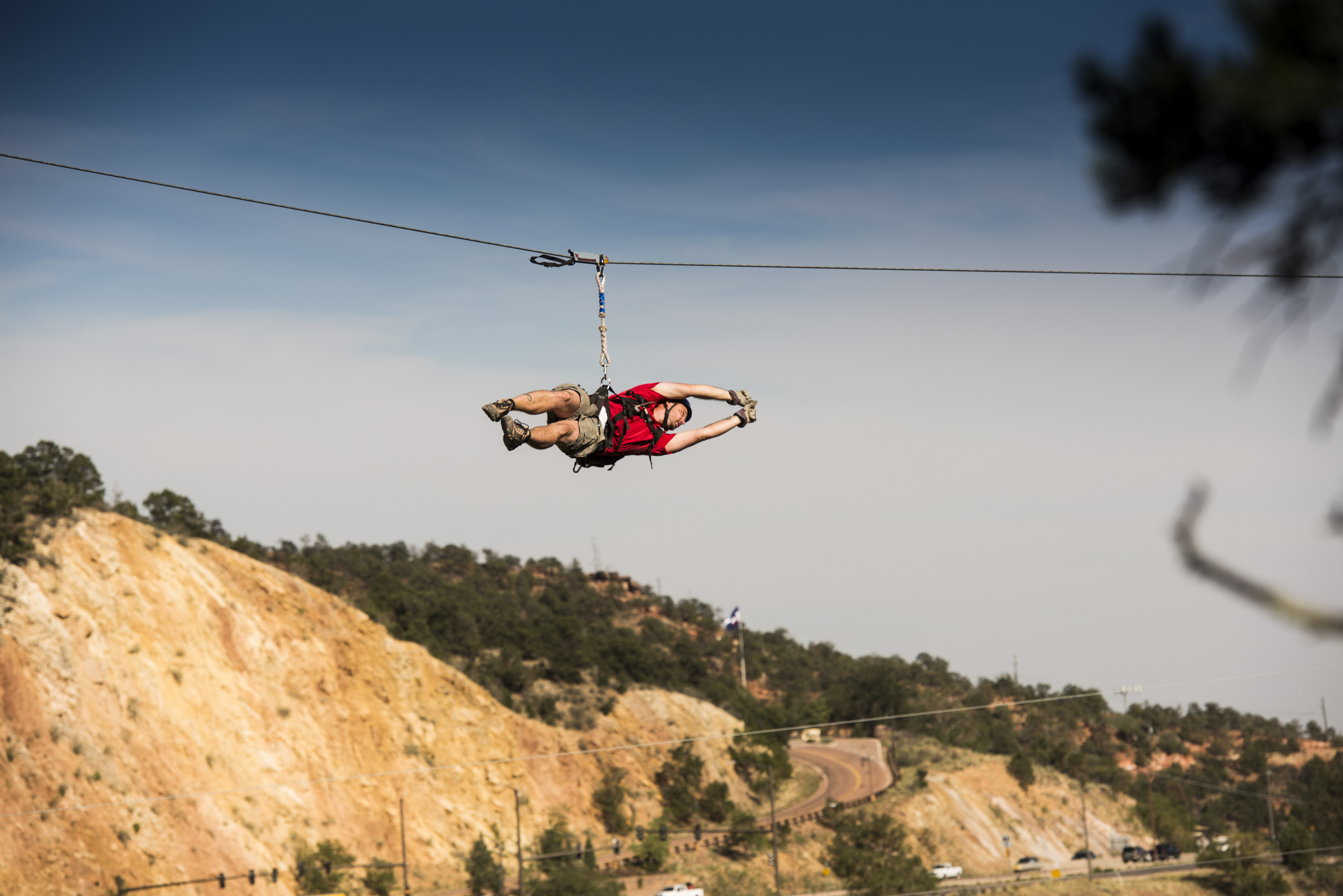 Zipline Guides
Wanted: people who like to soar! Applicant must be outgoing, responsible
and over the age of 18. Applicants with mountaineering, guiding or outdoor
recreation experience will be given preference in hiring. The more you know and better you entertain the better the whole experience will be for you and the guest.
An AOW guide shirt will be provided. Guides must supply their own kahki pants and or shorts.
Zipline guide is a seasonal part time position, 3-5 days a week, Memorial day to Labor Day. We stay fairly busy through the fall and Spring. Winter is our slow season. Guides are responsible for safely and courteousley leading guests through the Zipline experience. Guides assist guests in check in, putting on harnesses and helmets. Guides also lead the zipline tour physically attaching and removing guests from the zipline. Knowledge of local flora and fauna and a good sense of humor are required. Average $10.00 hr plus tip.
Photo Positions and General support positions also available.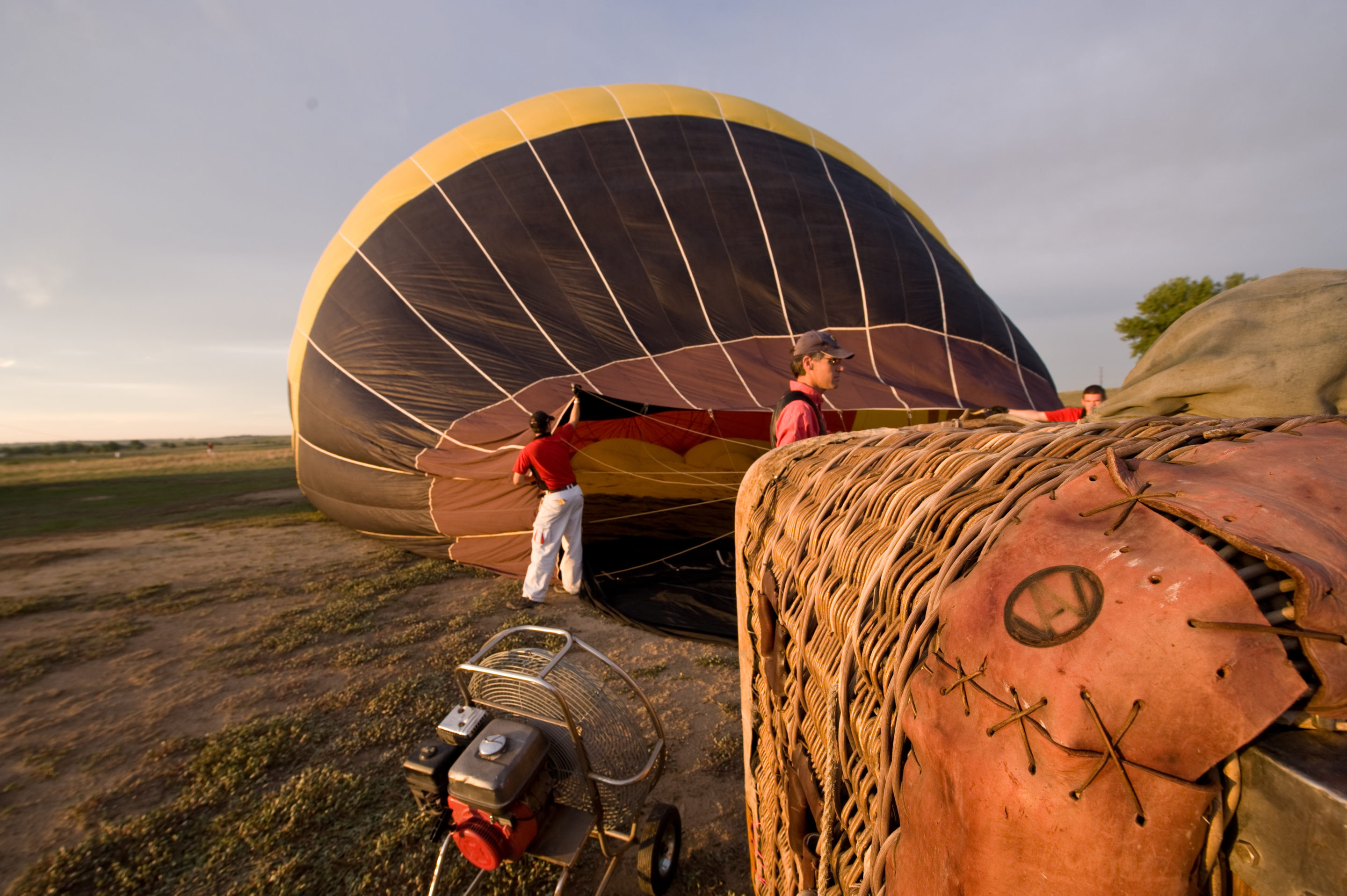 Balloon Crew
Ballooning is adventure you'll never forget. Early morning people catch the worm and then go on to do other work. Strong backs, heavy lifting and dirt on the clothes are the norm. Chasing the gentle giants is great fun on the Colorado Plains. No experience is necessary for this position. Flights are lead by a licensed balloon pilot who is responsible for the flight. Flight team consists of a pilot, vehicle driver and crew slackie. AOW uniform crew shirt will be provided. Applicants must provide kahki work pants and gloves.
Chase Crew Driver applicants must be over the age of 25 and have a clean driving record. experience pulling trailers is a must. Driver is responsible for getting the balloon rig and food setup to the balloon launch point. Chase driver also drives the rig during the flight and then fuels the balloon after flight. Pay is by the Flight. A typical flight lasts 3 to 4 hours. Total time with fueling and put away is about 4 hours and typically less. Pay is $50.00 per flight plus gratuity.
Crew member applicants must be at least 16 years of age and have reliable transportation. Crew members asist the pilot in assembling and packing up the hot air balloon. Pay is by the flight and typical time is 3 hours, usually less. Pay is $30.00 plus tip.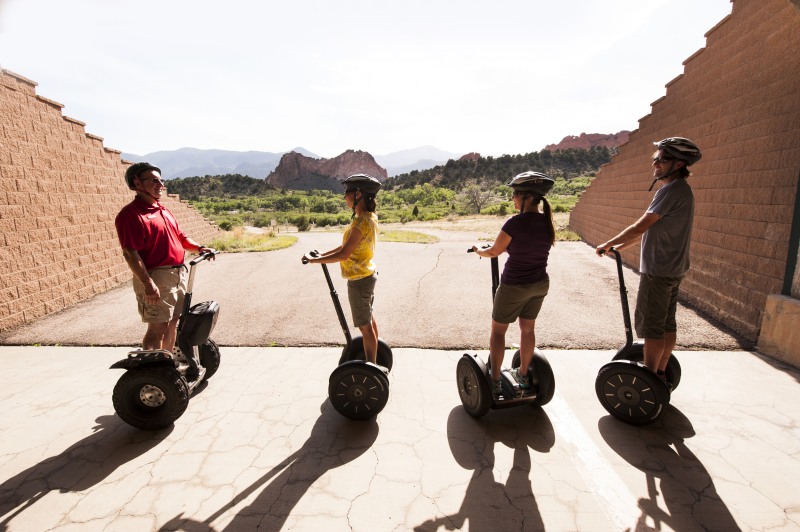 Segway Guides
Glide right on through the summer with AOW at Garden of the Gods. Being a Segway Guide is not for everyone. Guiding a Segway tour also includes training the rider in the proper use of the machines. Applicants with previous coaching experience make great guides. Tours are offered year round at the Garden of the Gods Visitor and Nature Center. Applicants over the age of 25 with a clean driving record will be given priority for hiring. Applicants under 25 and over 16 will be considered as well but with a limited roll. An AOW uniform shirt is provided. guides must wear khaki shorts or pants.
Typical duties include greeting guests and setting up the training zone. Helping to sell tours at the activities desk. Guide will train each customer on the use of the Segway. Segway Tour Training will be provided to the applicant. Guide will SAFELY lead tours of 1 to 2 hours in length.
This is our highest risk activity. Guides need to be very thorough in the duties. Our Segway guides definately have the best tans at the end of the summer. Pay is by the hour plus tip and commission. Avg hrly pay is close $20.00 and hour.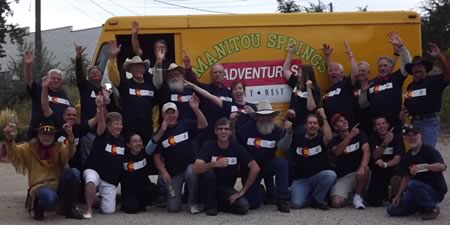 Sales and Office Staff
Not all work is in the field at AOW. The back room scene provides the foundation of a successful tour outing. From tour booking to scheduling, marketing and logistics the AOW HQ never shuts down. Full time and part time seasonal positions are available at the AOW HQ and at the Garden of the Gods Visitors and Nature Center Activities Desk. Fast paced and on the fly dicisions are made daily. Applicants need to be able to coordinate bookings and tour schedules at the same time. Customer service is number one and we strive to accomodate all needs in a timely fashion. Closely coordinated team work is the norm and expected.
AOW office staff typical duties include phone answering, Q and A customer service for the guest. Reservation booking and tour guide scheduling and coordination. Well thought out decisions will need to be made. Experience in customer service and reservations is given preferential treatment in hiring. Money handling and credit card authorization is part of the job. Office hours in the summer are 8:00am to 7:00pm. Pay is $10.35 hr plus commission.
GOGNVC Activities Desk staff typical duties include customer service Q and A. Tour booking and scheduling of the activities offered at Garden of the Gods. Desk attendant will have a money drawer to balance each day. Close coordination with the AOW HQ is essential is creating a seemless operation for the customer and guides at AOW. Activity desk hours are 9:00am to 5:00pm Pay is $10.20 hr plus commission and guide tip out.