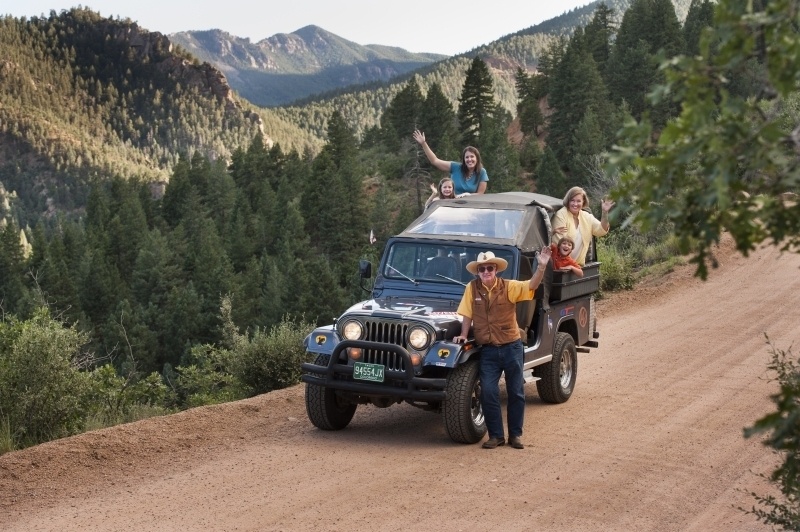 Garden of the Gods Foothills
$88.00 Adult     $58.00 Child
Your GOG Foothills Tour highlights Colorado Springs most well known landmarks: the Garden of the Gods, Cheyenne Canyon, and Manitou Springs.  Colorado History, Railroad Tunnels and amazing scenery will provide an adventure you'll never forget.
2 .5 hrs
Tour Details
Our most popular Jeep tour.  This historic sight-seeing adventure is a great way to enjoy and learn about the Pikes Peak region! Our entertaining and informative cowboy guides take you on a journey through time in the foothills of Pikes Peak.  The tour highlights western  scenery and some of Colorado Springs' most famous historical sights. Attractions include North Cheyenne Canyon, Helen Hunt Falls, the Shortline Railroad and its 100-year-old tunnels, Old Colorado City, Manitou Springs, and the spectacular red rock park, Garden of the Gods. In our open-air Jeeps, your photo opportunities are unobstructed! This tour is about 70% on paved roads and 30% on dirt and is offered year-round. Includes bottled water, light snacks, wool blankets, and the best cowboy Jeep guides in The West!!
Due to the growing popularity of these locations, the ability to stop and get out may be restricted.  Your guides will their best to provide photo stops and leg stretching opportunities as they present themselves.
Our guide was great and the scenery amazing…
Eric W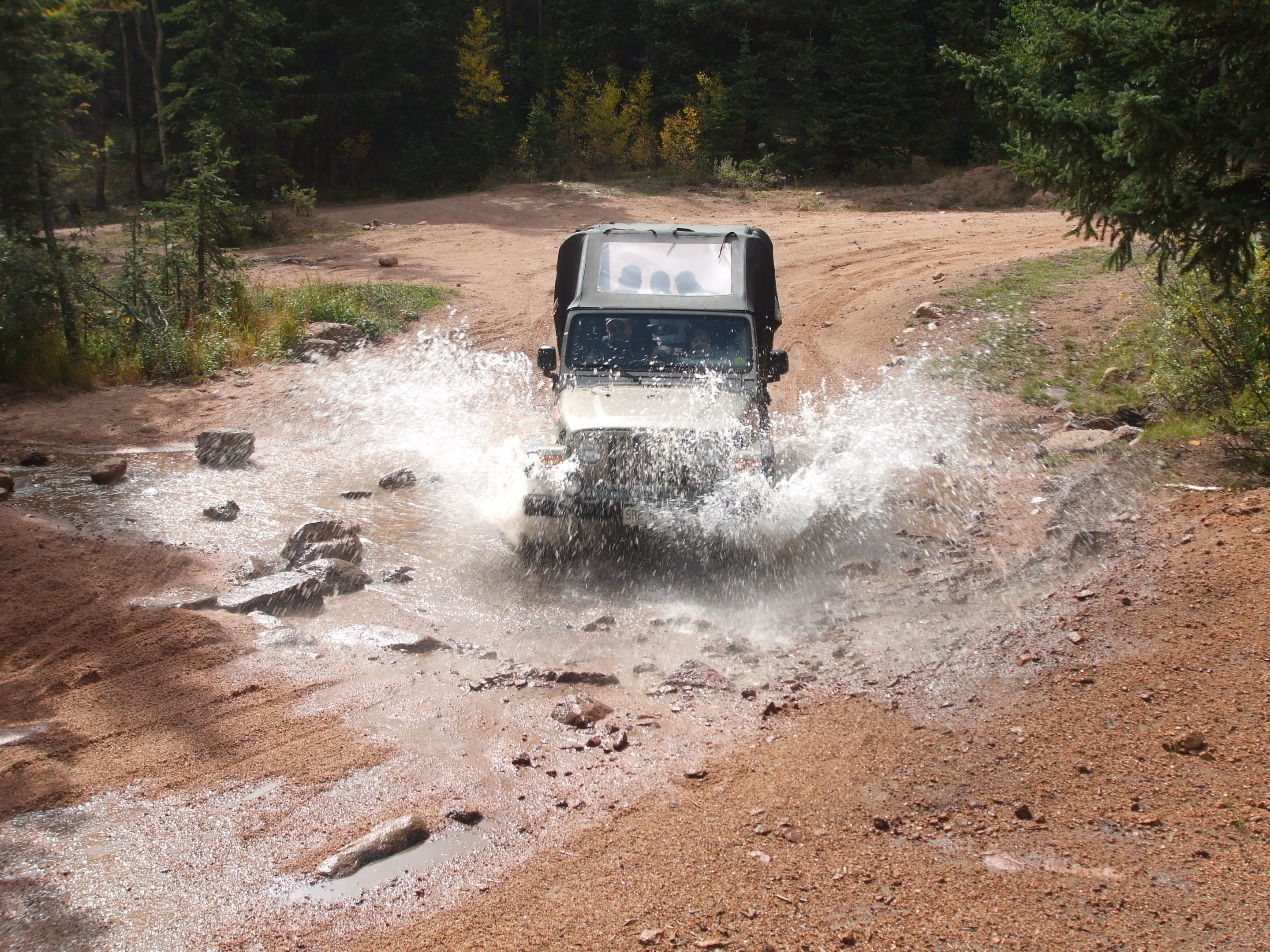 Old West High Country 4x4 Tour
This tour is closed for the winter season. See you next spring!
$139.00 adult or Child
Pike National Forest Off-Road Adventure.
3 hrs. Week Days Only
Tour Details
A High Country Jeep Tour is the epitome of Colorado Adventure.  Since the 1850's explorers have traversed Pikes Peak in search of Gold and a better life.  Your tour will highlight this history and follow the Short Line Rail Road.   President Teddy Roosevelt once embarked upon this route proclaiming, "The scenery bankrupted the English language."  Our Forest Service Permit allows us to go off-road, cross streams, explore tunnels and visit townsites of the Old West.  Plan 3-3.5 hours and dress appropriately for this awesome adventure into the Colorado High Country.  This tour only runs on weekdays to give you the best possible experience.  
UP GRADE Your Experience- High Country Extreme Tour for the most unique view of Pikes Peak.  Or cruise to Cripple Creek for Mining History Galore.   Please call the office to confirm availability for this tour route upgrade. 719-578-0935  $25.00 per guest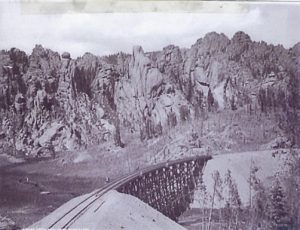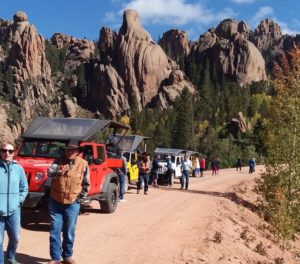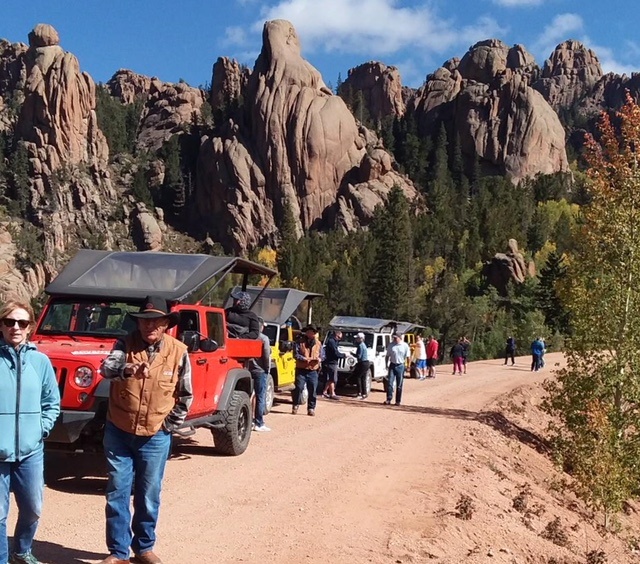 Cathedral Park- 1892  and 2018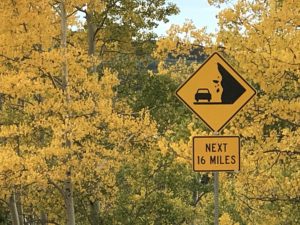 This is a Rail Road Buffs dream tour through history.
"This scenery bankrupts the English language" 
Teddy Roosevelt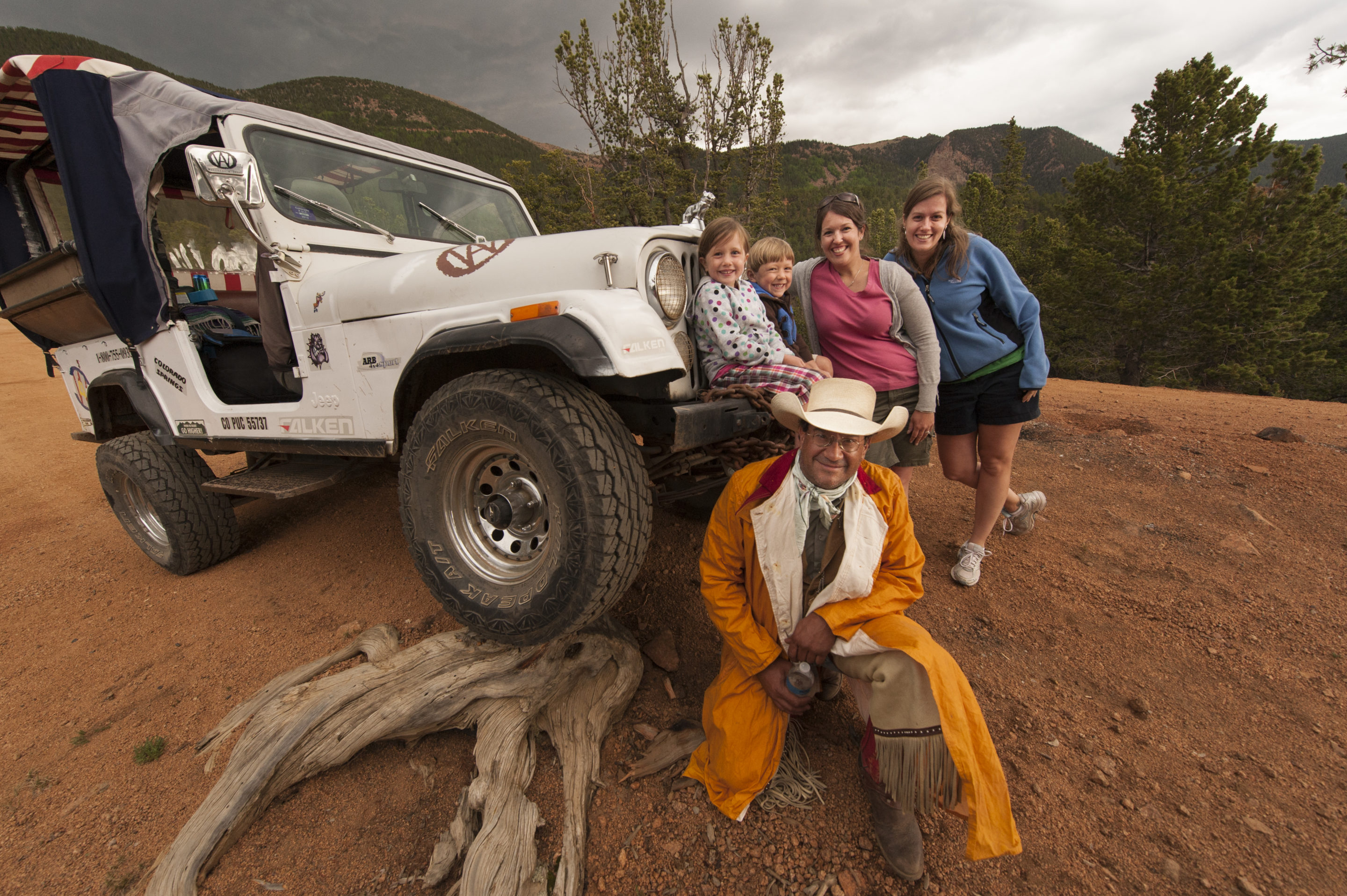 High Country Extreme Tour
This tour is closed for the winter season. See you next spring!
 $164.00 Adult     $99.00 Child
The Classic Colorado 4×4 tour with all the fixin's.  Our tour climbs 12,500′ Almagre Peak.  This is an extreme route driven by our specially trained guides.  Advanced reservations are required for this special access tour.   
3-4 hours
Book Now- Must call for availability.
Tour Details
This is our most remote and scenic activity, highlighted by breathtaking views of alpine meadows, wildflowers, beaver ponds, and streams. Eagles, deer, cougars, and bears may be sighted. These memories will be cherished forever as you your dreams become reality. Relax, take in the clean mountain air, and enjoy the splendor of the Rocky Mountains. Includes bottled water, sodas, light snacks, wool blankets, and the best cowboy Jeep guides in The West!!   The Road up Almagre Peak is aggressive and subject to advanced reservation and tour route modification.  (Guests may be asked to walk short sections of the route as conditions dictate.)  HOLD ON FOR FUN!
My kids love the stream crossing and I loved the thrills.
Billy P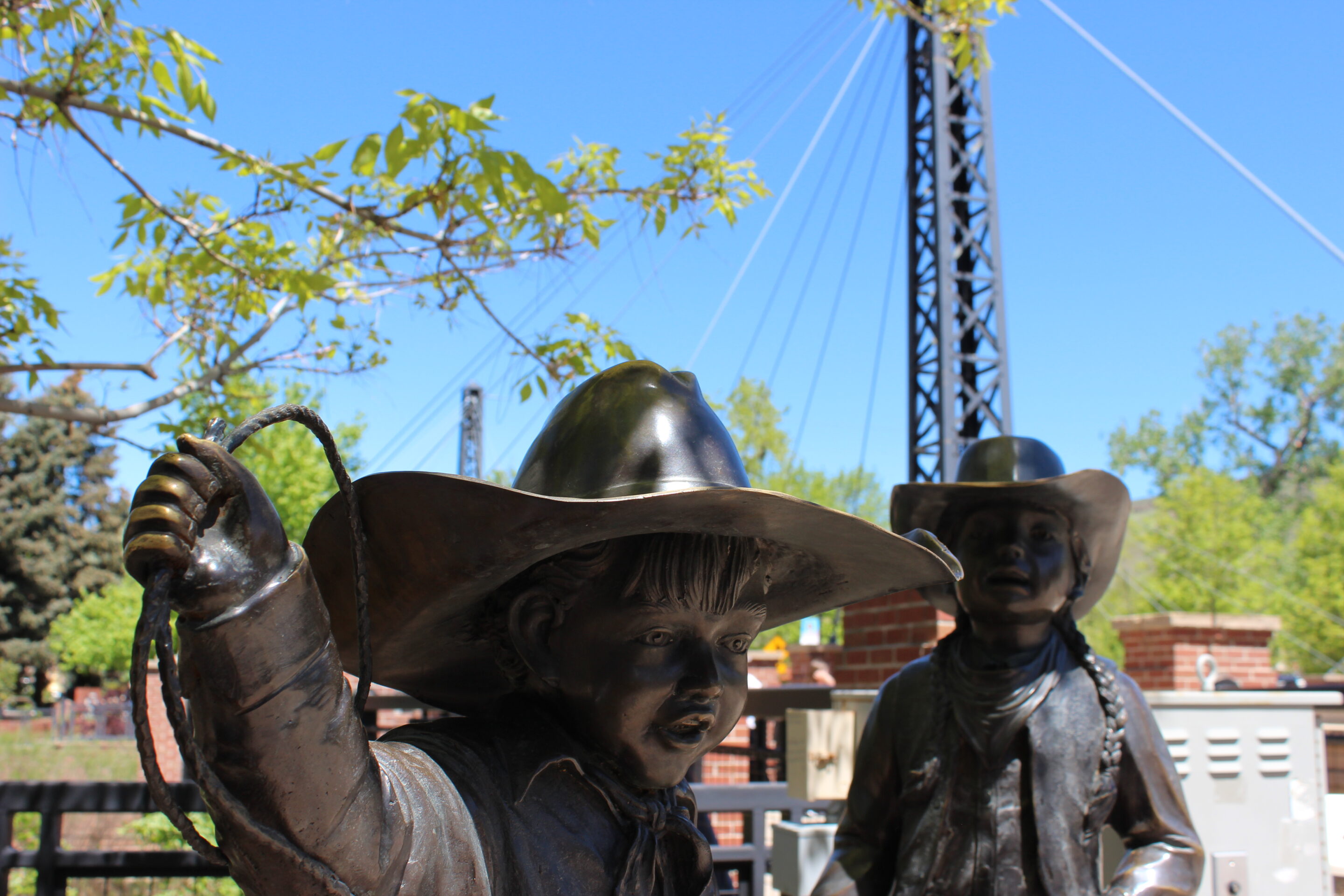 Denver, Golden and Boulder Area Charter Tours
Follow in the foot steps of Gold Miners, Rock Legends and Pioneers of the West on one of our outstanding tours of the Colorado Rockies.  From Milder to Wilder our custom and private excursions will get you up close and personal with the Front Range of the Rockies near Denver, Colorado.  Hotel pickup is available, or meet us in Golden for a jump start on your adventure!  All tours are by reservation and guaranteed to be a highlight of your trip to Colorado.
Denver Area Tours require 24 hours notice to schedule.
Tour pickups in Down Town Denver will have a $20.00 per guest charge. (But this also includes additional tour time and history.)
Denver, Golden, Central City and Boulder Tour Details
Denver Foothills Tour 
$88.00 per guest  3 hour tour depending on pick up location.
The west side of Denver is rich in scenery and history.  Golden, Colorado is the gateway to the West.  Red Rocks Park is home to the legendary concert venue, and Look Out Mountain offers a sensational view above it all.  Combined, this tour provides a  wonderful afternoon on the Mile High City's west side.  (Depending on the concert schedule, guests will be able to explore the amphitheater.)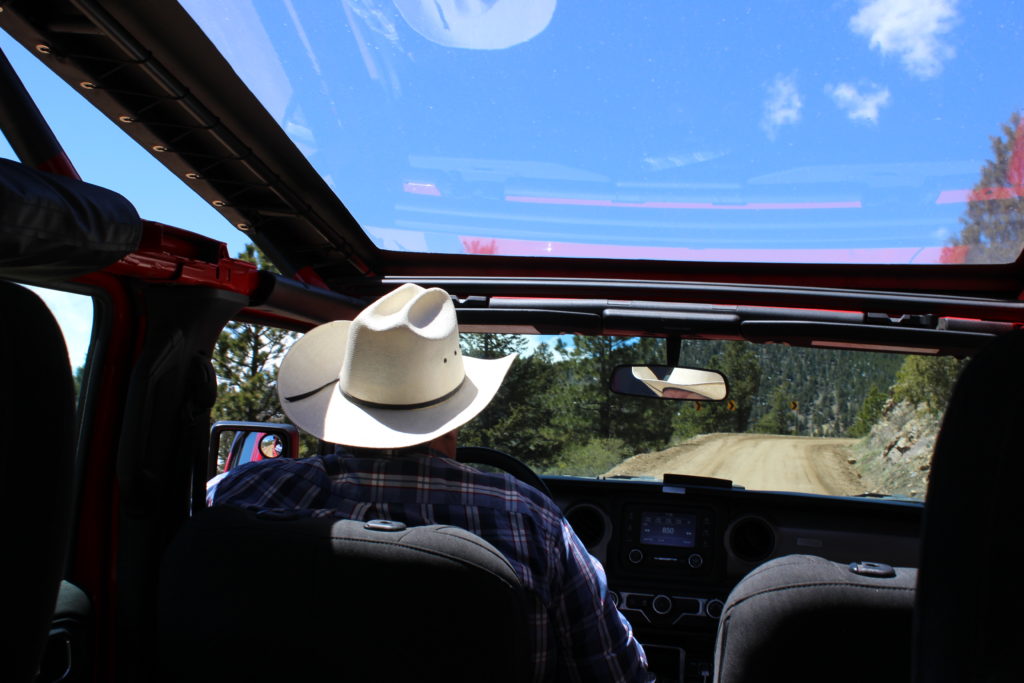 OMG Off-Road and Mining History Tour
$99.00 per guest  2-3 hr tour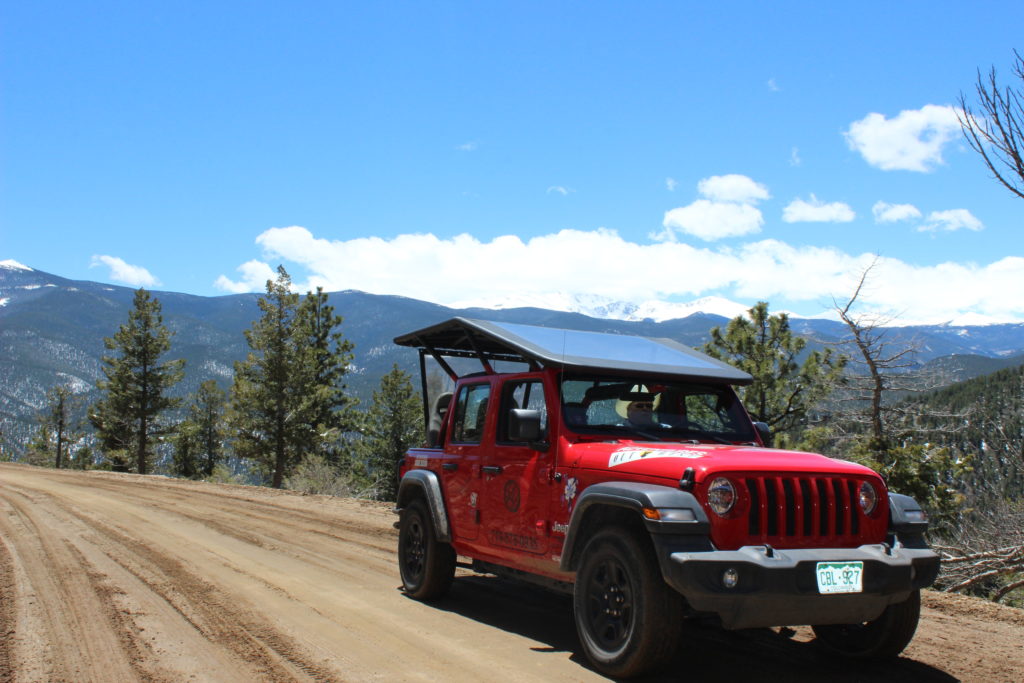 Long before text messaging shortened the phrase, this road was nick named by locals for its perilous journey. Up and over the top to Central City is an adventure (One local even tried to dig a tunnel through the mountain just to avoid the route).   Today the road is a bit more tame but none the less beautiful and still full of Colorado Mining History.  The route departs Golden and follows the recreation mecca of Clear Creek Canyon on its way to the authentic turn of the century town, Idaho Springs.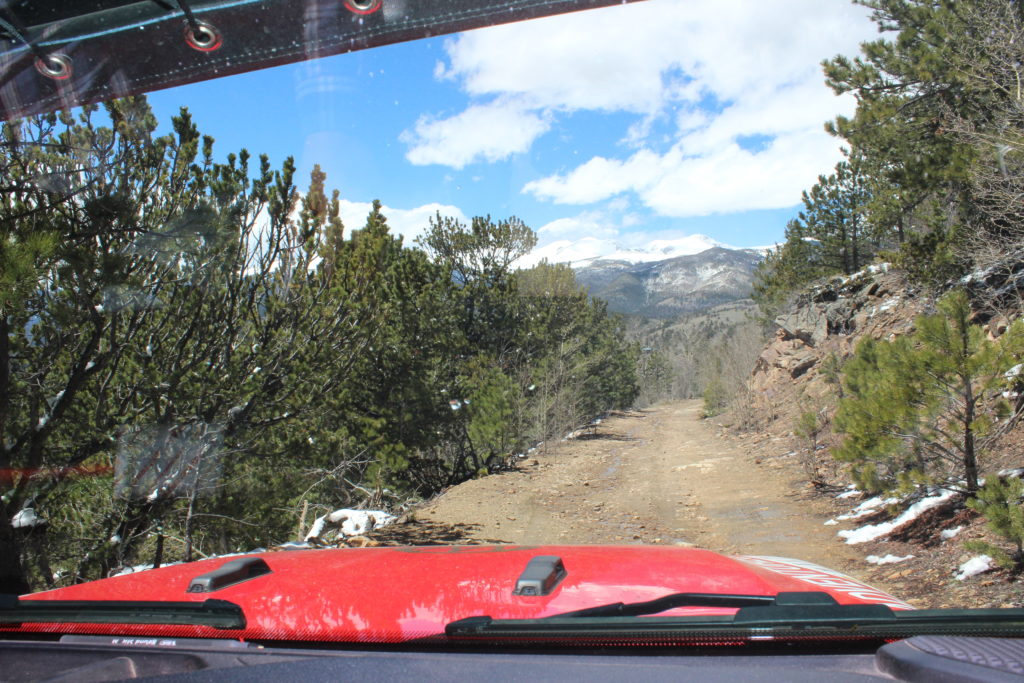 This small town is alive and well with plenty of fun buildings to look at.  From Idaho Springs we climb the OMG road to the top of the pass.  Views of Mount Evans and other Snow Capped Peaks are as stunning as the drop-offs on the side of the road.  This county road is maintained so its not too rough on the bottom.  The pass gives way to the hills of Gregory Gulch,  claimed to be "The richest square mile on earth".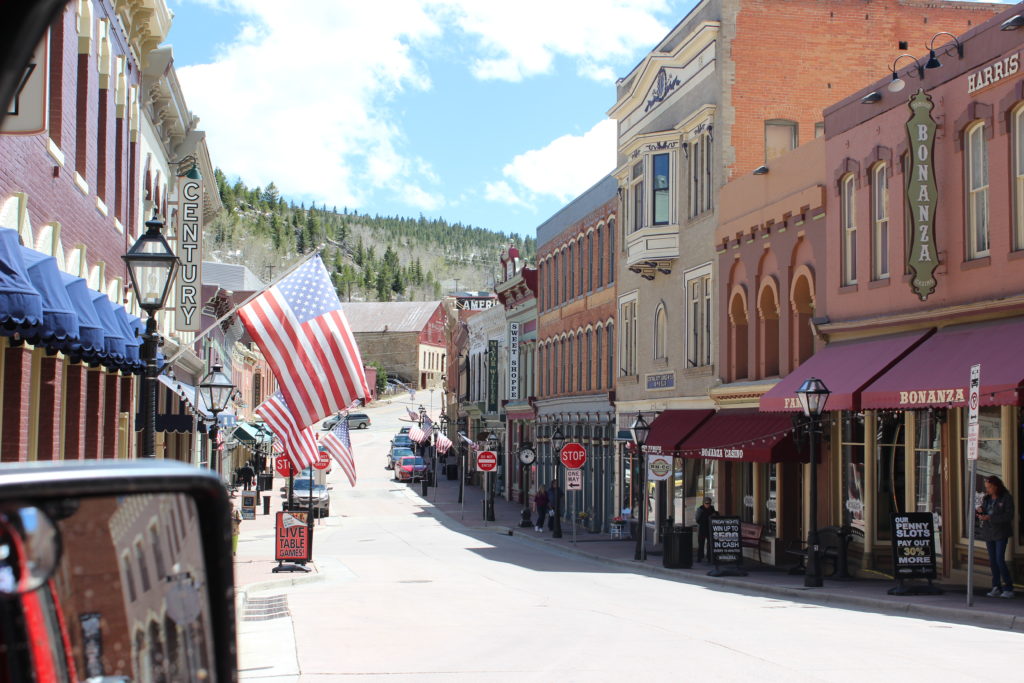 With this wealth, boomed the most fascinating town ever built at 8,500ft.  On the side of a mountain opera houses flourished.  Your tour will explore the scenic hillsides above town and the quaint streets of the city.  If time permits you may be able to pull a slot machine or grab an ice cream cone in one the local shops before we head back to the big city.
Boulder Switzerland Trail Off-Road
$88.00 per guest 2-3 hours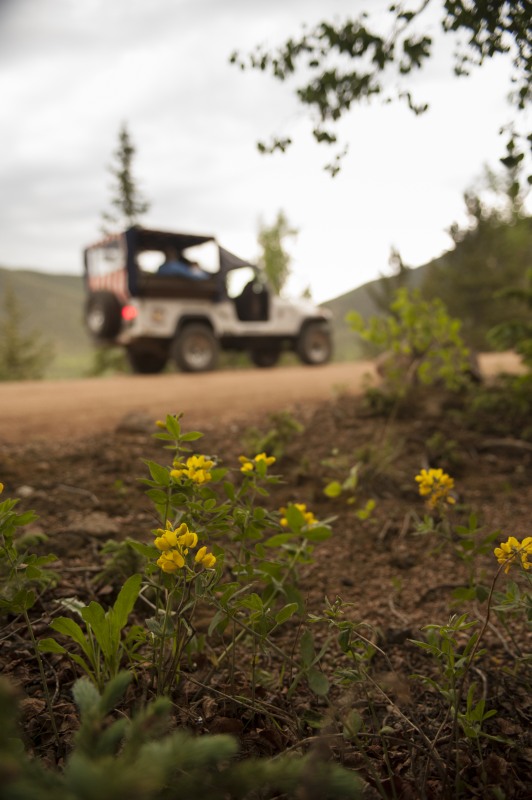 Home of the Buffs and pure Colorado Adventure, The Switzerland Trail traverses the Front Range Rockies following an old Rail Road Grade.  Pine Trees, Aspens and Old West Hideouts populate the area and this tour.  The Route follows Boulder Canyon and its beautiful creek.  Turn of the century engineering pioneered this route as evidenced by the old tunnels and still operational hydro-electric plant.  Side roads reach 9,000′ on Sugar Loaf Mountain where the Switzerland trail begins.  The Rail Road moved goods, people, and ore along its length to build the West.  A couple old towns along the way and few unique homesteads provide discussion on this leisurely tour.  As we descend back into Boulder, stately old homes and warmer temperatures lead the way back to civilization and your hotel.
All Tours Include Water, Snacks, Wool Lap Blankets and FUN.  Gratuities are not included.
Denver Area Group Tours
Yes we do groups!  Our Fleet of modern Jeep Vehicles are the best option for entertaining your people.  We can supplement our local vehicles with Jeeps from our Colorado Springs Fleet.  Please call AOW at 719-578-0935 for a custom built tour and quote for your team.
OMG..That was great!…YOLO
Bill B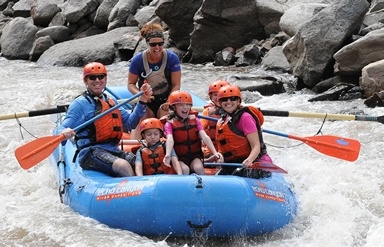 Jeep and Rafting Combo
This tour is closed for the winter season. See you next spring!
Only in a state as wild as Colorado and only at AOW can you experience World Class 3 White Water and Roads all in the same day. This is an all-day adventure into the heart of the Colorado Rockies.  (All Inclusive Tour- 4×4 adventure, Lunch, and Rafting Trip.)
Tour Details
Prepare for the an awsome day of adventure.  This all day tour includes a Jeep adventure over the south side of Pikes Peak on the Historic Gold Camp Rail Road route and a plunge down Phantom Canyon rd.  "Scenery that bankrupts the English language" will great you along the way.  The three hour Jeep tour stops along the way for awsome photos of old ghost towns and majestic rock formations.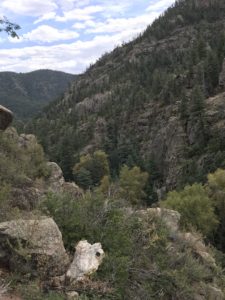 The mountain valleys give way to high desert as you arrive at Echo Canyon River Rafting.  Your guides will greet you and serve your plated lunch on the patio with views of the Sangre DeCristo Mountain Range.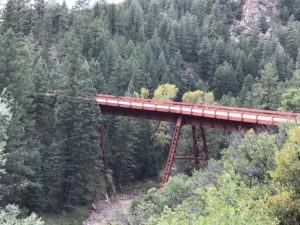 After lunch its time to Raft on your choice of beginner or Advanced white water.  The 3 hour rafting trip is as good as it gets on the famous Arkansa River.  At the completion of the rafting trip your party will load up for the 1 hr drive back to Colorado Springs on beautiful Hwy 115.
Class 2-3 Whitewater  Big Horn Canyon  $250.00-  A Good family trip or for those who are a little more hesitant.  This trip up the Arkansas is full of scenery and fun.
Class 4-5 Royal Gorge Canyon $275.00- Adventure level rafting for those who like to push the limits.  Fast and furious the Royal Gorge packs a punch unmatched in North America.  (This trip is subject to restrictions depending on the water flows.  Minimum age 18 years)
8-10 hours total tour time.  Depart Early from our AOW HQ on 21st st. in Colorado Springs, 7:00am. 
At the end of your rafting adventure you will have a chance to change into your warm snugglies that you brought along for the return trip to Colorado Springs.  This all day adventure is the only rafting trip that departs Colorado Springs.
Bring a day bag with all needed items.

Warm Clothes for the Jeep Tour portion of the trip.
Bathing suit, Towel and Sunscreen.  
Sunglasses and lanyard.
Souvenir money and a camera.
Please call our Head Quarters to book this tour.  Advanced reservations recommended.  
R U Kidding me?  Echo Canyon was great and the water was even better.  What a blast!
Andy N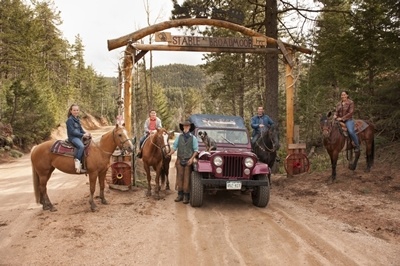 Jeep and Horseback Combo
$129 per guest
Our cowboy Jeep guide will take you on a scenic journey to the Old Stage Riding Stables for a one-hour mountain horseback ride! Enjoy the beauty of the historic Old Stage Road from an open-air Jeep. (Ask for more adventure)
3 hrs
Tour Details
Take in the splendor of historic Old Stage Road from an open-air Jeep!! Our cowboy guide will take you on a scenic journey to the Old Stage Riding Stables for a one-hour mountain horseback ride!! You will feel like an early explorer as your horse carries you through the rugged grandeur of the Pike National Forest. Relax and take in the stunning alpine overlooks and breathe in the fresh Rocky Mountain air. You may even get to see buffalo and elk!! Following the horseback ride, our cowboy Jeep guide will enlighten you with tales of the Old West as we return to town. Includes bottled water, light snacks, wool blankets, and the best horseback guides and cowboy Jeep guides in The West!!
We decided to add a little adventure to our lives and the Jeep and Horseback tour was perfect.  Let AOW do the driving.
Terry C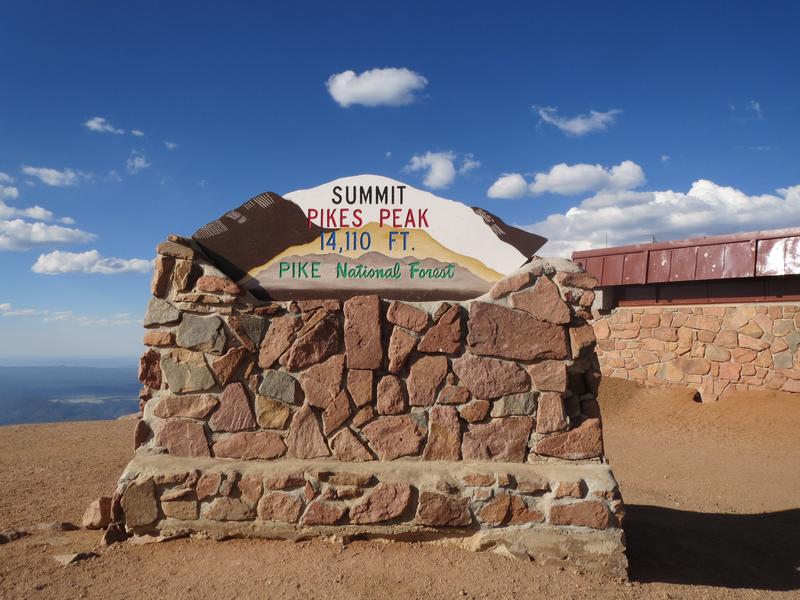 Pikes Peak or Bust, Summit Tour
Click on our our Pikes Peak Summit link for further information.
Americas Mountain is AOW's top tour!
All inclusive
Wool lap blankets
Summit Coats
Water and snacks
All Hwy Fees ($15.00)
Views for 100 miles
Tour Details
This tour is weather dependent.
In the winter months, your guide will journey as far as possible, but may not reach the summit. 
See all of America's mountain on this adventure to 14110′! The tour is offered in the mornings to take advantage of the best views and weather Pikes Peak can offer.   Your cowboy Jeep guide will make you feel right at ease on this Highway to the Clouds. The 19 mile drive reaches the summit where you will delight and soak in the extraordinary view that inspired Katharine Lee Bates to write "America The Beautiful"!  After spending some quality time at the top, we'll climb back into our open-air Jeep or Hummer and descend this famous mountain. Nineteen miles of historic Rocky Mountain road brings you back to Manitou Springs and our AOW Jeep depot.  Includes bottled water, light snacks, wool lap blankets, a souvenir tubie and use of our Columbia summit Parkas.  Not to mention the best cowboy Jeep guides in The West!!
Please visit our Pikes Peak Summit link for additional information.
I had done Pikes Peak before but this tour was way better because I could watch the scenery instead of the road.
Shauna S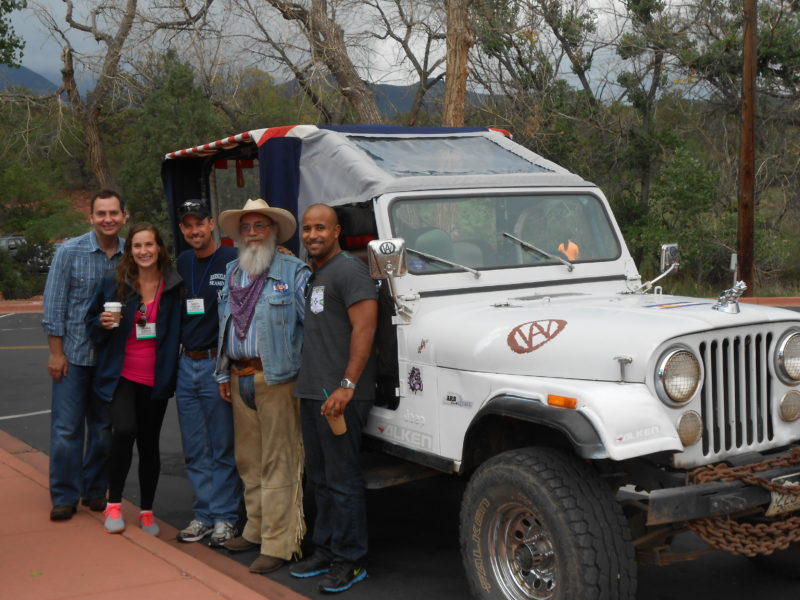 Group Jeep Tours
AOW offers cutomized adventures for you and your team.  Team building, Scavenger Hunts, Unique Party Transfers AOW has your needs covered.  Our fleet can carry up to 80 people depending on the time of day.
Call us for more information.
AOW took care of all the arrangements and I got see all of Pikes Peak, Awesome!
David W
Call 719-578-0935 for additional information.