COS RODEO
Adventure is...Being in a Rodeo...Out West.
Western Wednesdays at Norris Penrose Event Center.
All summer long the COS Rodeo is celebrating tradition and building the future of Rodeo in Colorado Springs.  Don't just watch a rodeo…be in a rodeo.  June 20th to August 11th 2018.  Our unique event provides the spectator an opportunity to get up close and personal with Rodeo.  Whether you decide to enter your child in the Mutton Bustin', Ride in the Parade or just watch the Pro Riders get it on your family and friends will have a memory to last a life time.  Campfires, Live Music and S'mores will top off your evening.
Come on out to the COS Rodeo!
Gates Open 5pm. Dinner is served.
Professional events start at 7pm
Last call 9:00pm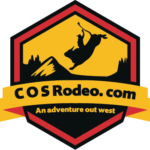 Learn More