COVID-19-AOW is Open for Business
To remain CDC compliant, to the best of our abilities, all tours and facilities are set up and scheduled to respect social distancing. All Jeeps, Segways, Hot Air Ballon baskets, and zipline equipment is cleaned and sanitized between each tour. All  tours are scheduled with reduced capacity.  If you require an exclusive tour please book our family packages.  Balloon flights will be limited to 8 passengers with 1 party per passenger compartment.  Zipline tours will be reduced and spread out throughout the course and property to allow for social distancing.
Participating in our activities has always been at your own risk.  Our AOW employees feel confident in our ability to serve your needs safely.  Please bring and wear your masks.  Masks are required in our office and to the best of your ability while on tour.  It is ultimately your responsibility to be self aware of your health.  If you are not feeling well or experiencing COVID-like symptoms, please don't come and we will provide a full refund for your tour.
Call 719-578-0935 for additional information.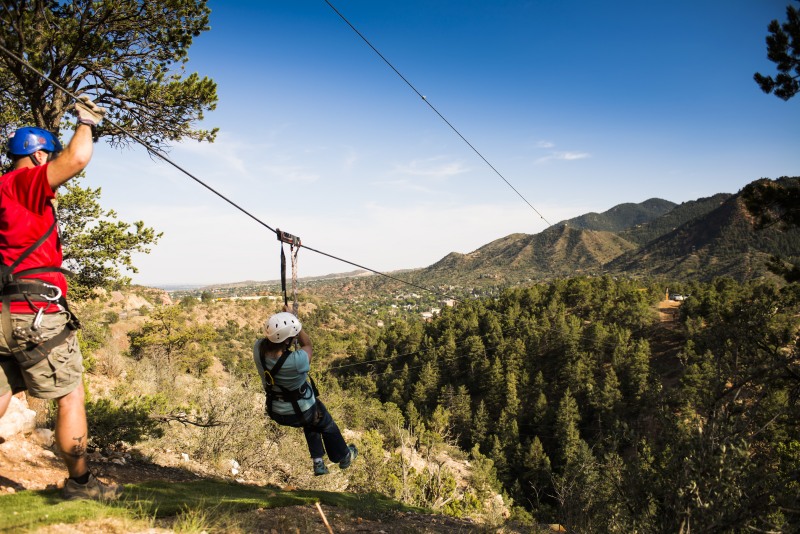 Colo-rad Tour
$90.00 plus tax (5%)
All natural terrain free style course.
The Best Hour of Adrenaline in Colorado!
See Winter Wonderland tour in Nov-Mar.
Tour Information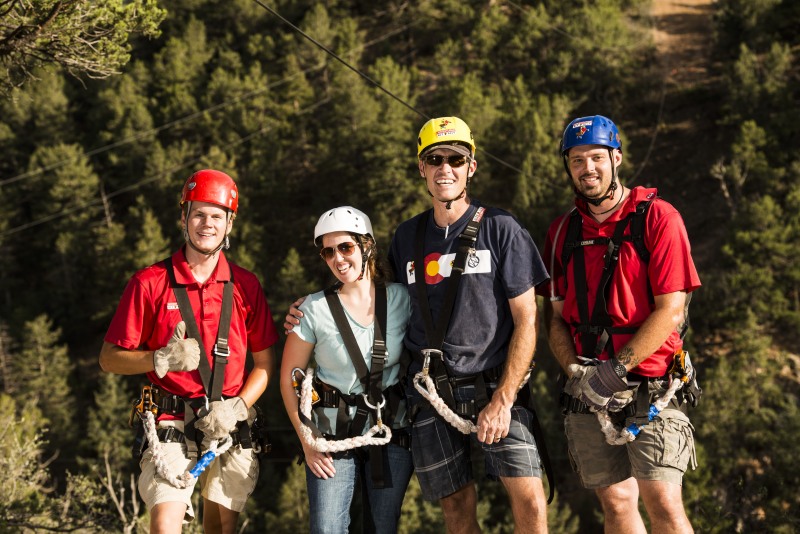 Your adventure starts in the heart of Manitou Springs at our convenient location in Manitou Springs.  Check in at our Cabin is 15 minutes prior to your tour time.  Out staff will fit you with a full body harness and helmet and prepare you for launch.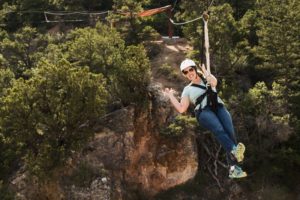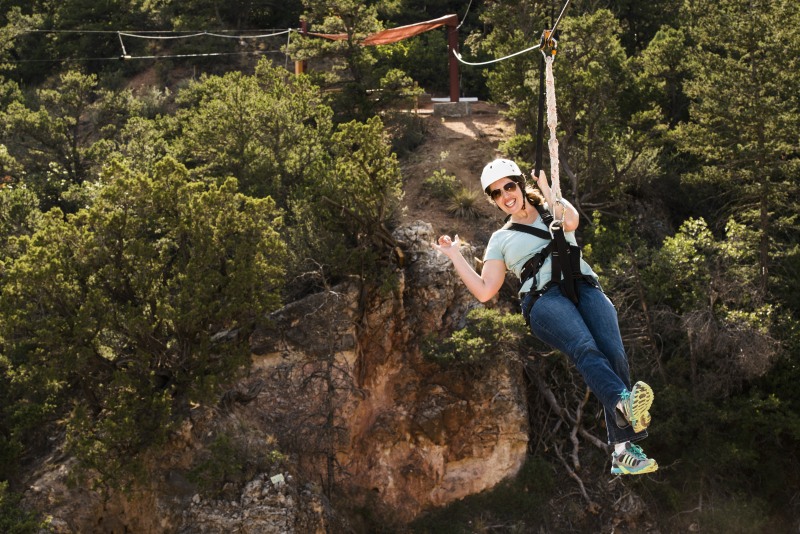 A short trip up the 4 x 4 hill in our custom vehicle will bring you to the Zipline Course.  Our course includes 5 extremely fun ziplines!  Your guides will provide a safety briefing and then its time to ZIP ON!  Run Jump or Crawl and then let your spirit soar!  Our guides do all the braking so you can enjoy the ride.
Summer Season Memorial Day to Labor Day

1st tour 8:30am/ Last tour 3:30pm
Custom times may be available by reservation

Off Season
Group size up to 10 people
5 Ziplines and 4×4 ride
The ziplines were incredible and the guides were super! My 9 year old had a blast!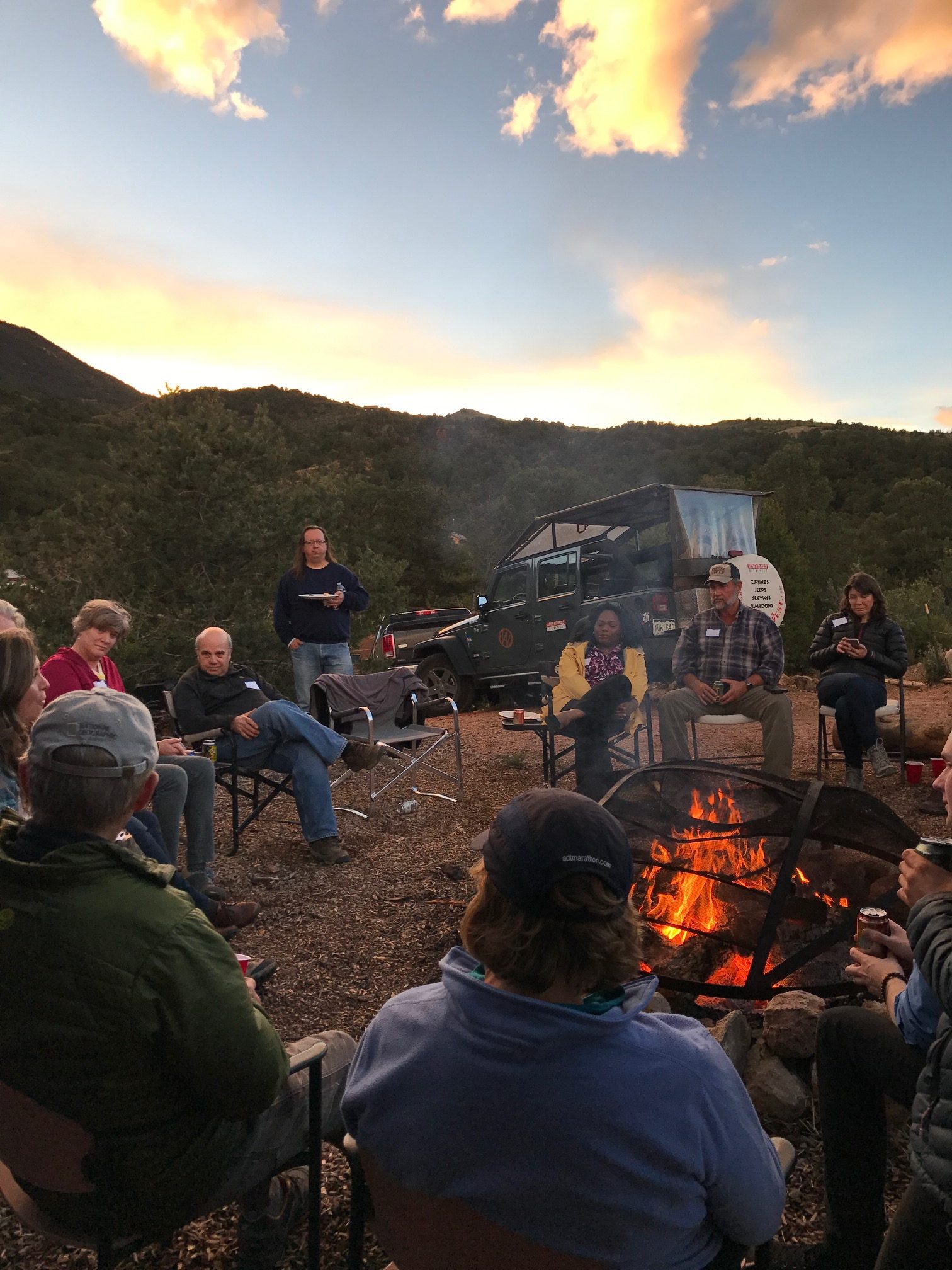 Family Night
$50 per guest
Family Rate $350 for up to 8 guests.
Ziplines and Private campfire
Great for kids, even better for adults. Summer tour only.
Tour Information
Zipline to your heart's content, or take a vacation from your vacation and let AOW entertain. While your kids are having the time of their lives, sit back and relax by the fire with a cold one. Drinks provided.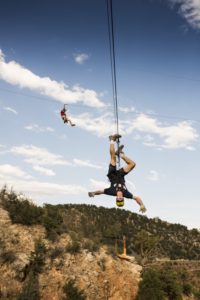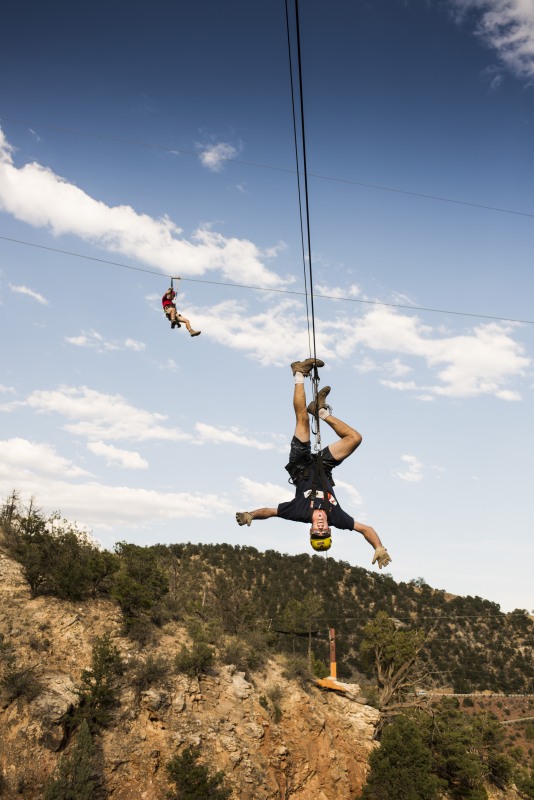 Family Night includes our longest and fastest Ziplines. Each guest will get a minimum of four rides, which provides plenty of opportunity to learn some tricks, soar over the canyon, and experience ziplining at a great rate. After Ziplining, play giant jenga or corn hole, hang out around the fire pit, watch the sunset, and roast s'mores with your family for the ultimate Colorado experience.
 4:00 PM – 8:00 PM. Guests can arrive as late as 6:00 PM.
Call to book your private group at other times.
$350 for up to 8 guests. Additional guests are $50 per person.
Parents who do not wish to zipline can join in for free. While your kids are having the time of their lives, sit and enjoy the fire with an ice cold Rocky Mountain Coors. Drinks provided. 2 max per person. Included with the purchase of a regular ticket.
Weather-  Afternoon storms are the norm and short lived.  Generally they happen before the family night activity providing a fresh and spectacular evening.   Please be patient when watching the forecast.  In the event AOW cancels the Family night you will be rescheduled on the AM Colo-Rad Zipline tour the following morning at no additional charge.
Family Night was the perfect end to our Colorado Adventure!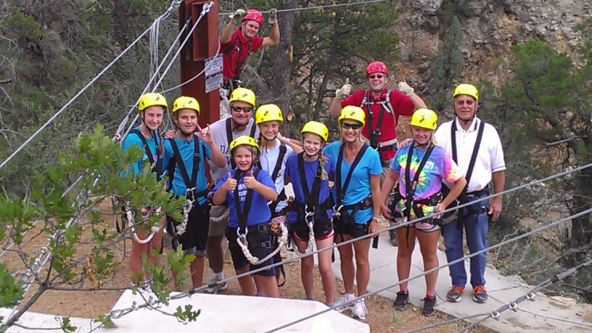 Group Tours
Youth Groups, Adult Group, Team Building and Parties!
Tour Information
Pikes Peak Ziplines is an event facility like no other. Bring your friends, family and co workers to the Ziplines for an adventure they will never forget.  Your team will have the whole course to themselves including use of the Fire Pit and Tented picnic area.  This is great Colorado outdoor fun in a beautiful setting!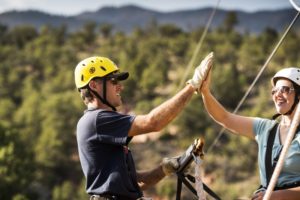 Our facility can handle up to 70 guests at a time.  Larger groups will be accommodated by ziplining in shifts.  We have plenty of room for you at Pikes Peak Ziplines.
Group Pricing  $52.50 per guest (15 or more)
Team Building, Birthday Parties, Fear Factor Psychosis Treatment Packages, Custom tour times
Call to book your custom tour.
Our team had a blast and bonded together.  Can't wait to come back.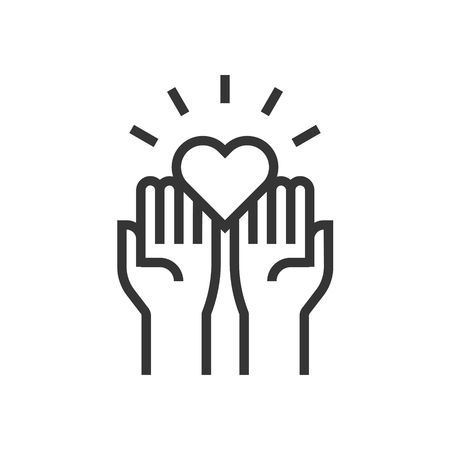 Fundraiser Fridays
Raise money for your cause at Pikes Peak Ziplines.  100% of the proceeds raised goes back to your group.
Tour Information
That's right, all of it.  AOW is the premiere provider of Adventures in the Pikes Peak Region and we want to share that opportunity with you.  There is only one catch, you must raise $1000.00.  Call AOW for details on this fantastic opportunity and to see if your group qualifies.
The details.
Tour –  It's the family night package run on Friday evenings. No s'mores.
How Many people?   up to 70
Payment-  $1000.00 minimum   Your group needs to raise at least $1000.  For example, your group plans an event and charges $50.00 per person.  Your group would need to have at least 20 people to reach the $1000.00 threshold.  Or perhaps your group charges $100 a person and you bring 30 people.  You would raise $3000.00.
Your group Pays AOW by check and AOW will write a check back.  This way we can keep track of how much we have raised together.
Qualifying Groups-    Groups need to submit an application.
Name, Cause, Contact info, Date requested, Non Profit status, Web site or other needs.
Applications will be submitted to AOW management for consideration based on private company policy.
Please call for further details.  719-578-0935
Tour Information
Show your pride by flying the Red White and Blue.
8:00-10:00am
$65.00 plus tax 5% = 68.25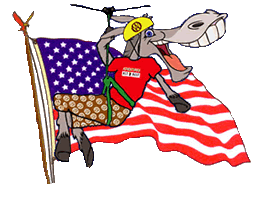 Start your 4th off with some American Adrenalin at Pikes Peak Ziplines.  AOW has the biggest American Flags in town and they will be on display over the Canyon and easily visible from Hwy 24.  Each guest recieves a T-shirt and Flag to soar with on the Zipline Course.  This is a popular activity and usually sells out so book early for this fun adventure.
Book Now