Experience the beauty and rich history of Colorado.
Every Adventures Out West Jeep tour is unique and guaranteed to create memories for a lifetime. The scenery is amazing, including the #1 city park in the Nation, Garden of the Gods, and other sights like Pikes Peak, Cheyenne Canyon, Helen Hunt Falls, and the 4×4 high adventure mountain trails. Your tour guide will drive you through these beautiful areas while explaining the history, geology, flaura, fauna, and telling tales of the West.
Why choose Adventures Out West? You can trust AOW for an amazing experience because the tours have been refined since 1973. You will travel on the best tour routes and see the most beautiful sights in Colorado Springs. AOW is family-owned and operated, ensuring that we can offer you the best possible adventure at every level. You will get to ride in a one-of-a-kind Jeep, built specifically for adventures. You won't find transportation cooler than this. AOW vehicles have open sides, a canopy sunshade, heated seats, and are stocked with coats, blankets, waters and snacks. Rated 5-stars on Trip Advisor and Google, and most of the reviews are about the fantastic tour guides. Fun, genuine, and professional. Each Jeep can carry 5 to 6 passengers. AOW has a fleet of over 25 custom Jeeps, with some that can carry up to 10 and 12 guests! Bring the whole family. Make new friends as you adventure together or book a private tour for just you and your loved ones. All Jeeps tours can be made exclusive so that you may operate on your own schedule. Public tours depart promptly at tour time with the guests that have arrived. Do you have a large group? Maybe a conference or event transportation? AOW is here to help with a fleet that can accommodate up to 100 people or more on most tours. Jeep tours are good for all ages. Please bring booster seats and car seats for kids. Are you going to Pikes Peak or high elevation? Please check with your doctor if you have any health conditions or children under 2 years of age. AOW has a team of fabricators, mechanics, fleet managers, and technicians to make sure that each Jeep is in top shape. All modifications are done in-house so that your safety can be put first when the vehicles are designed. Breakdowns can and do happen on tour, but they are rare and part of the adventure. Jeep tours operate year-round. Some of the more extreme routes, like into the High Country and Pikes Peak, are subject to weather conditions such as snow and ice, high winds, and heavy rain. The vehicles are stocked with rain ponchos, winter coats, wool blankets, and some have heated seats. All tours are at your own risk, just like driving in your own vehicle, but you will be riding with a highly experienced driver. AOW has an incredible safety record with a team of local guides that have driven these roads thousands of times. Go with a Colorado pro. Book with confidence knowing that you can cancel for any reason at least 24-hours in advance for a full refund. No refunds for cancellations within 24-hours of the departure. Reservations are highly recommended! You can also walk up to book during the summer months, but departures fill up fast, so space is not guaranteed without a booking. Call to talk to a local that can help you create the perfect trip. All the office staff live and work right here in Colorado Springs. No phone tree and no robots. Just real people ready to answer your questions. Call 719-578-0935 or email [email protected].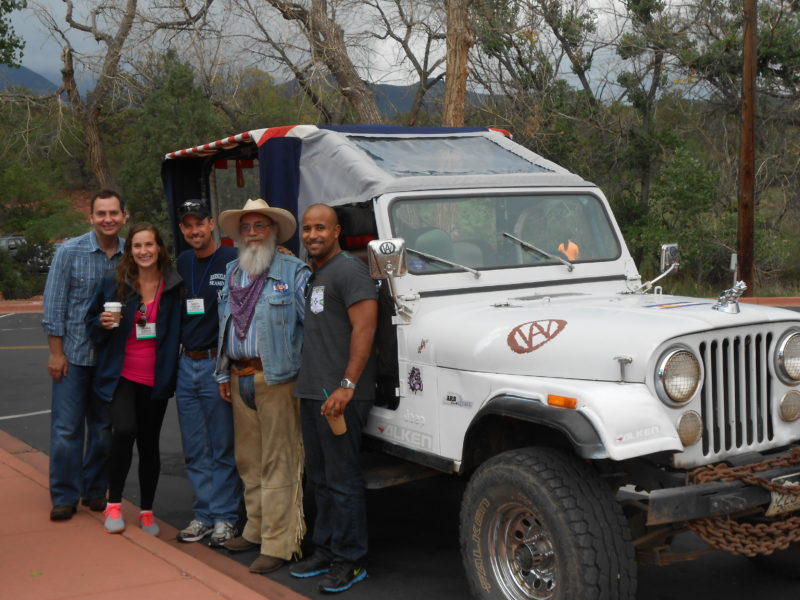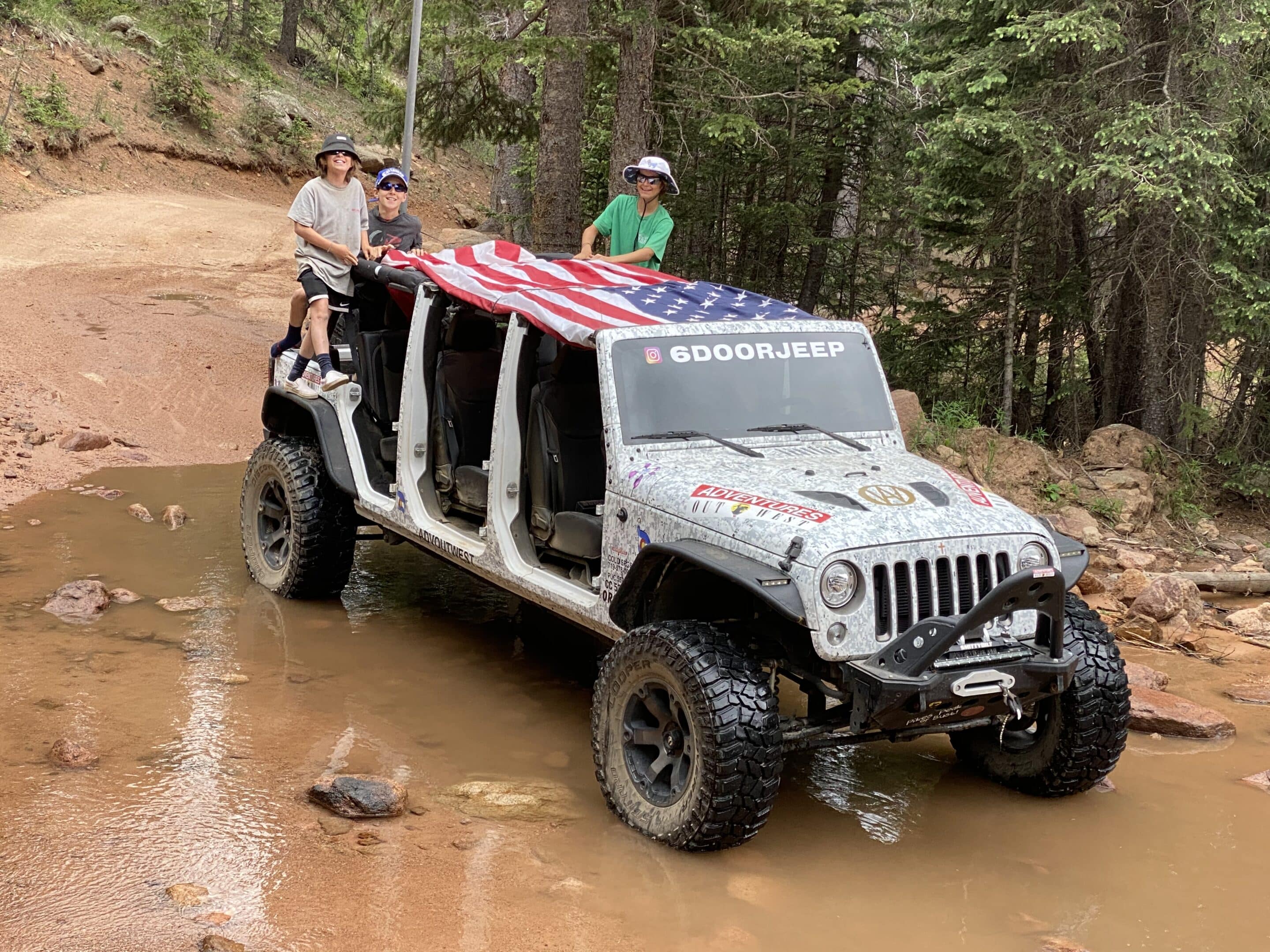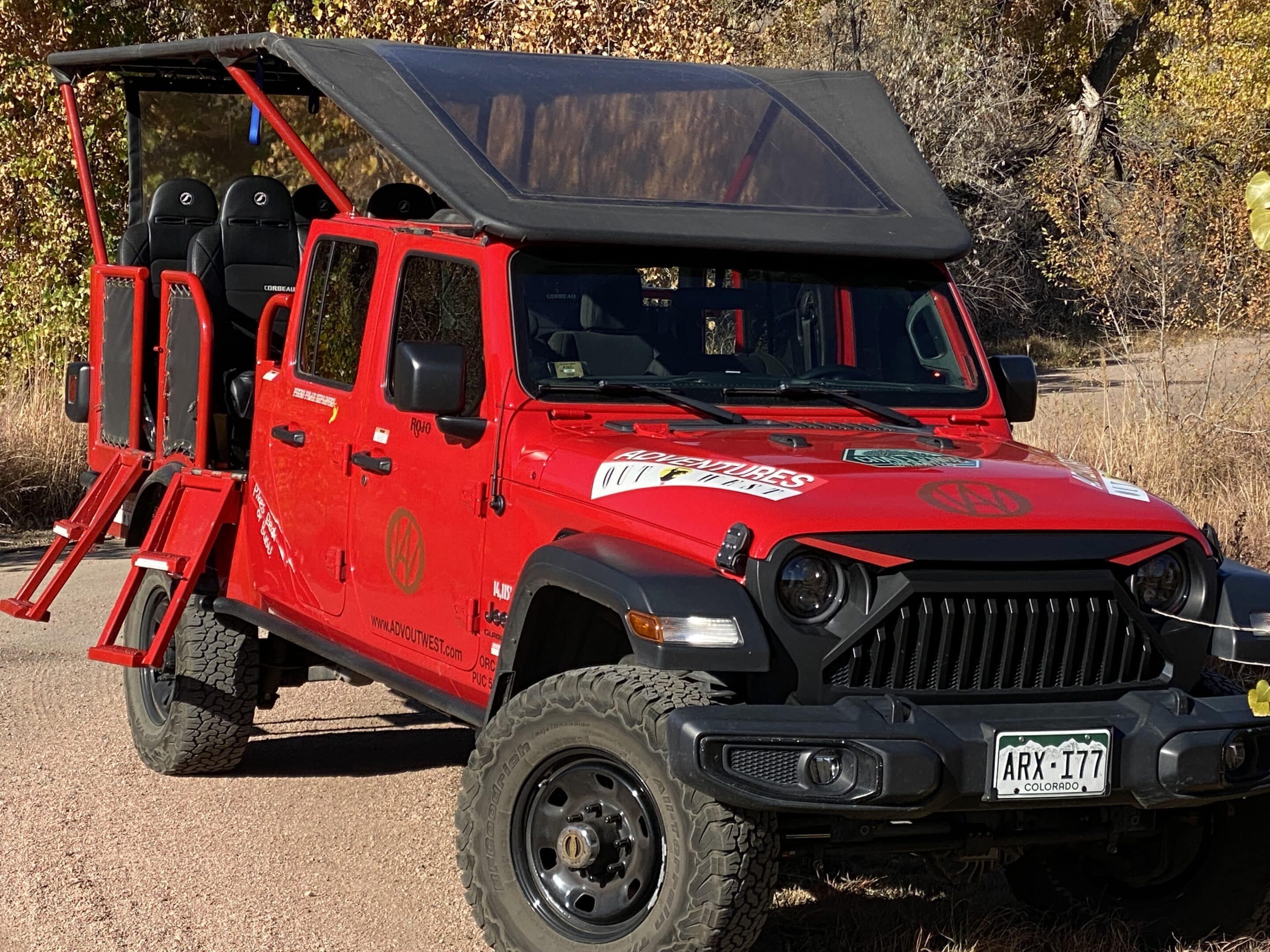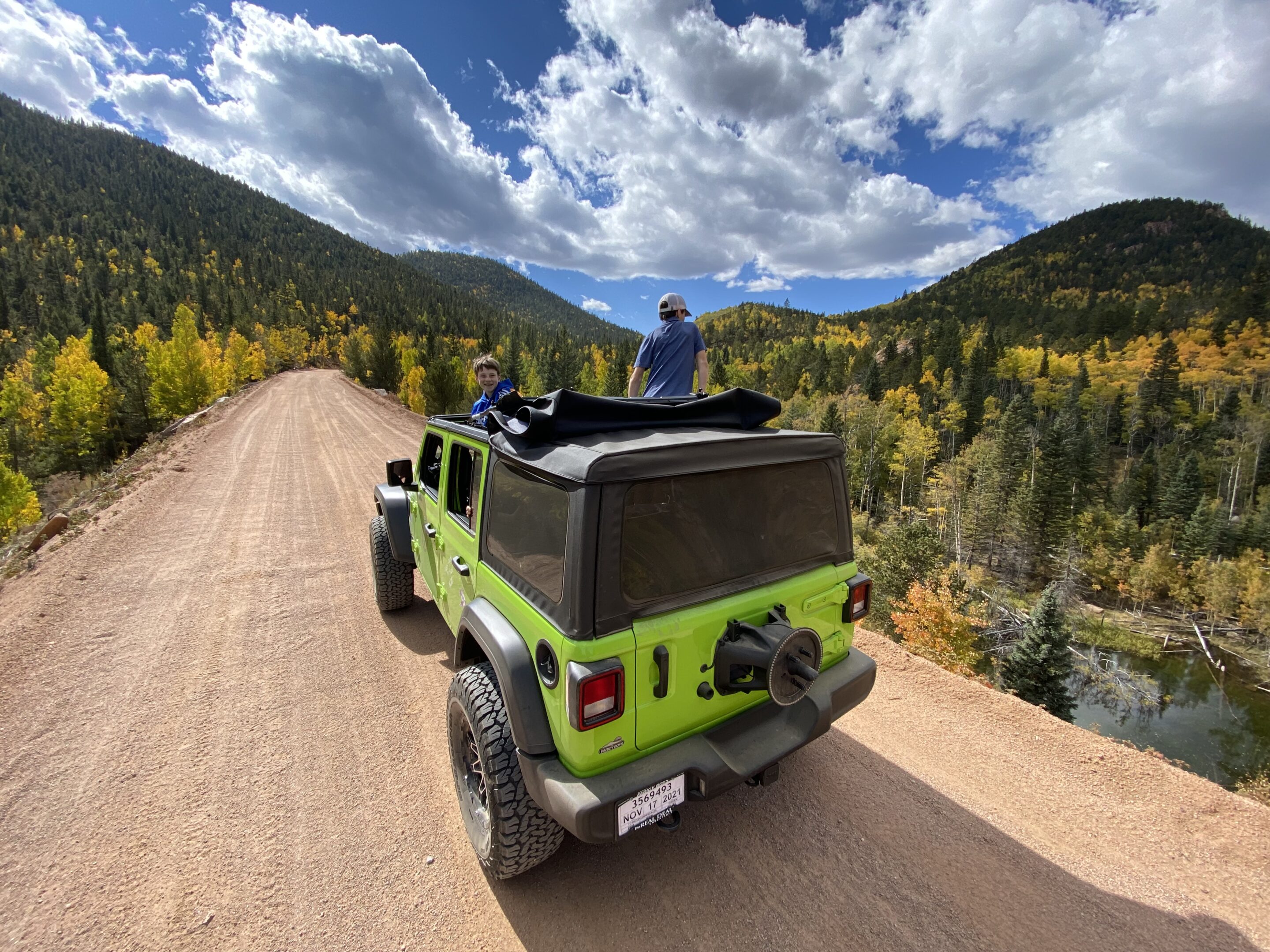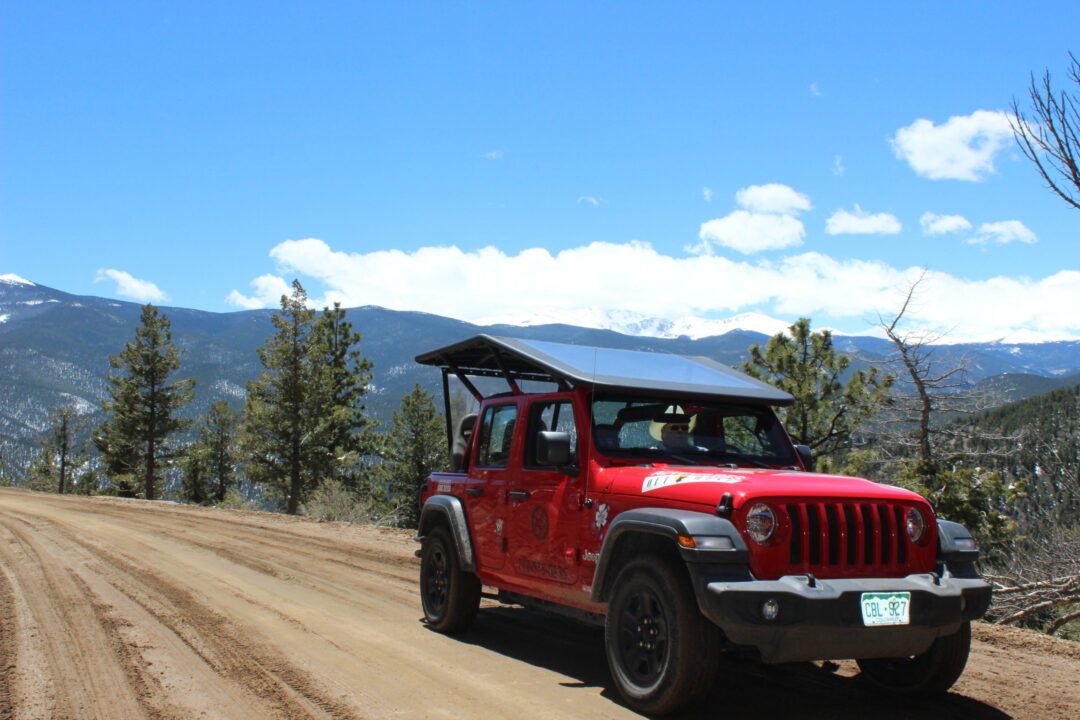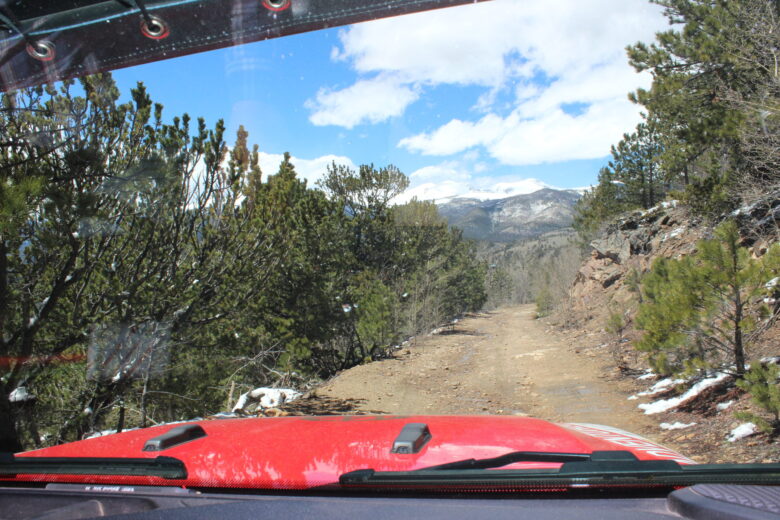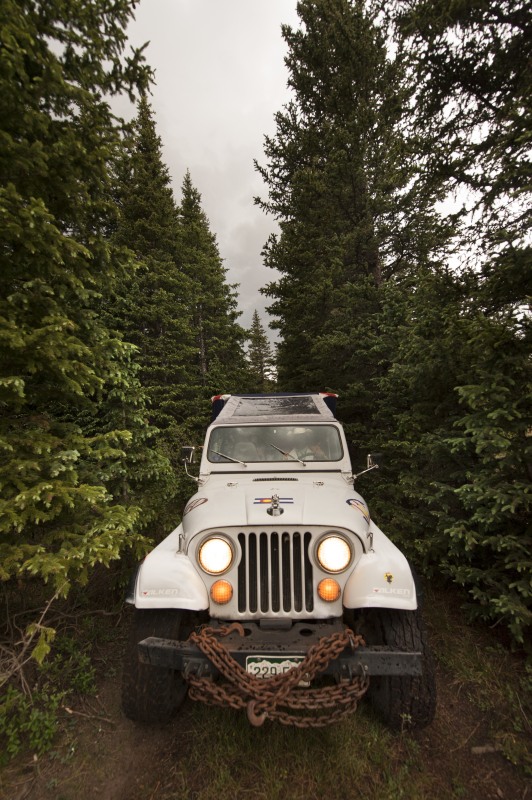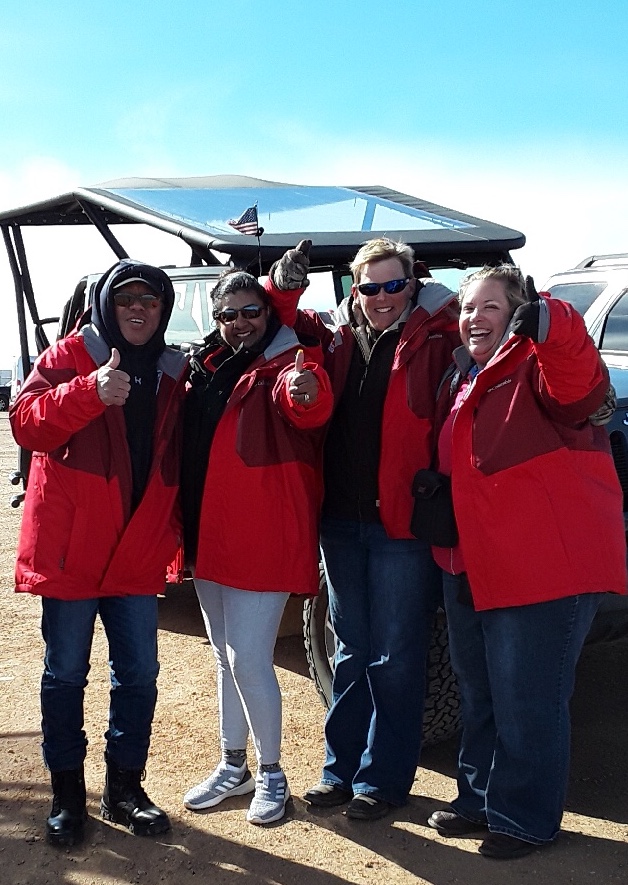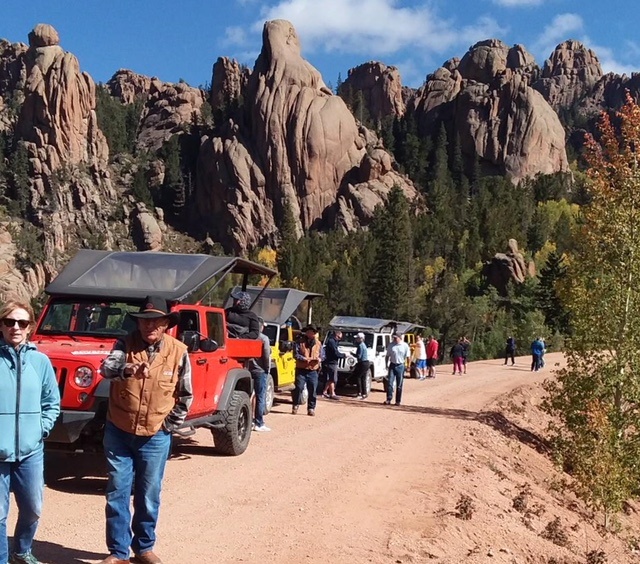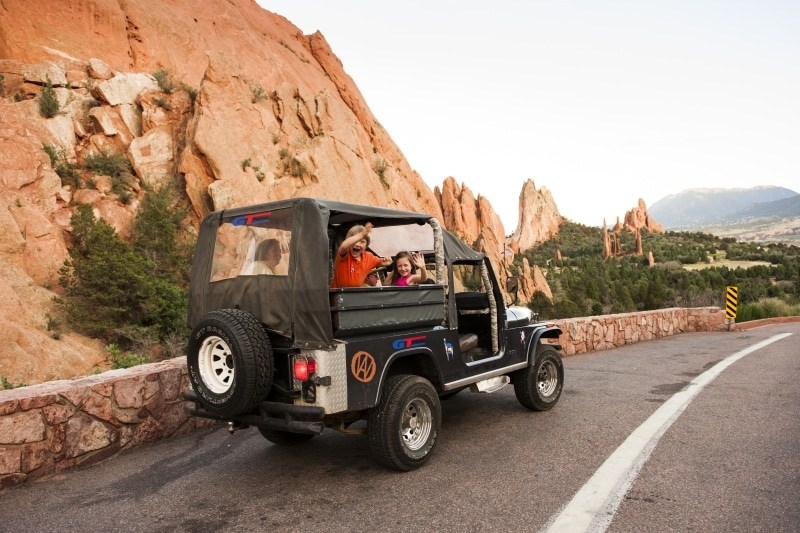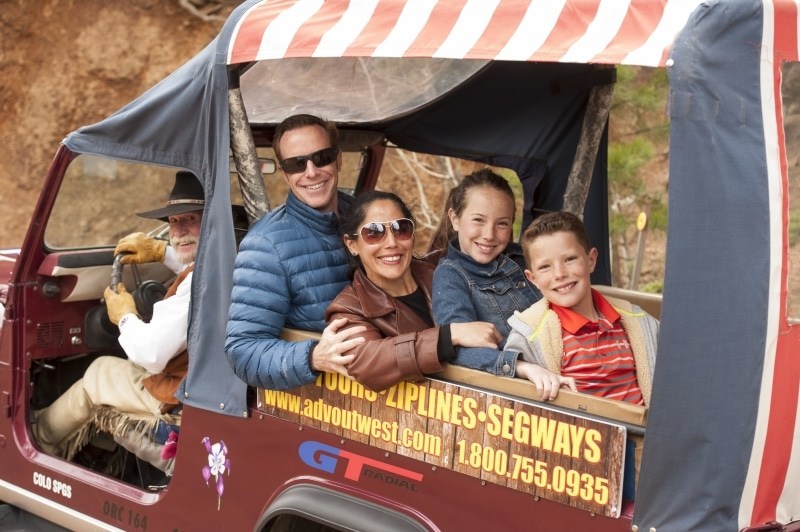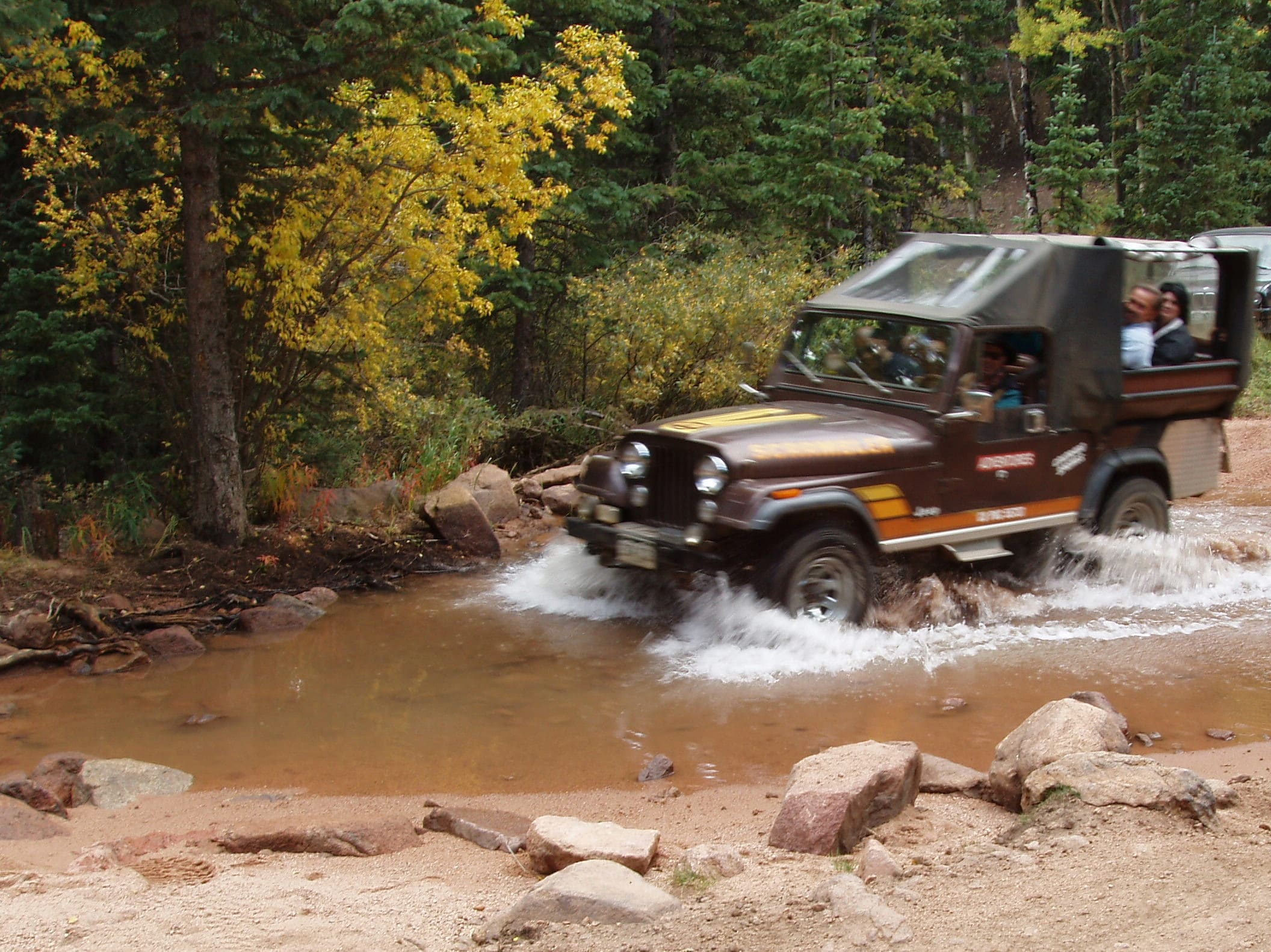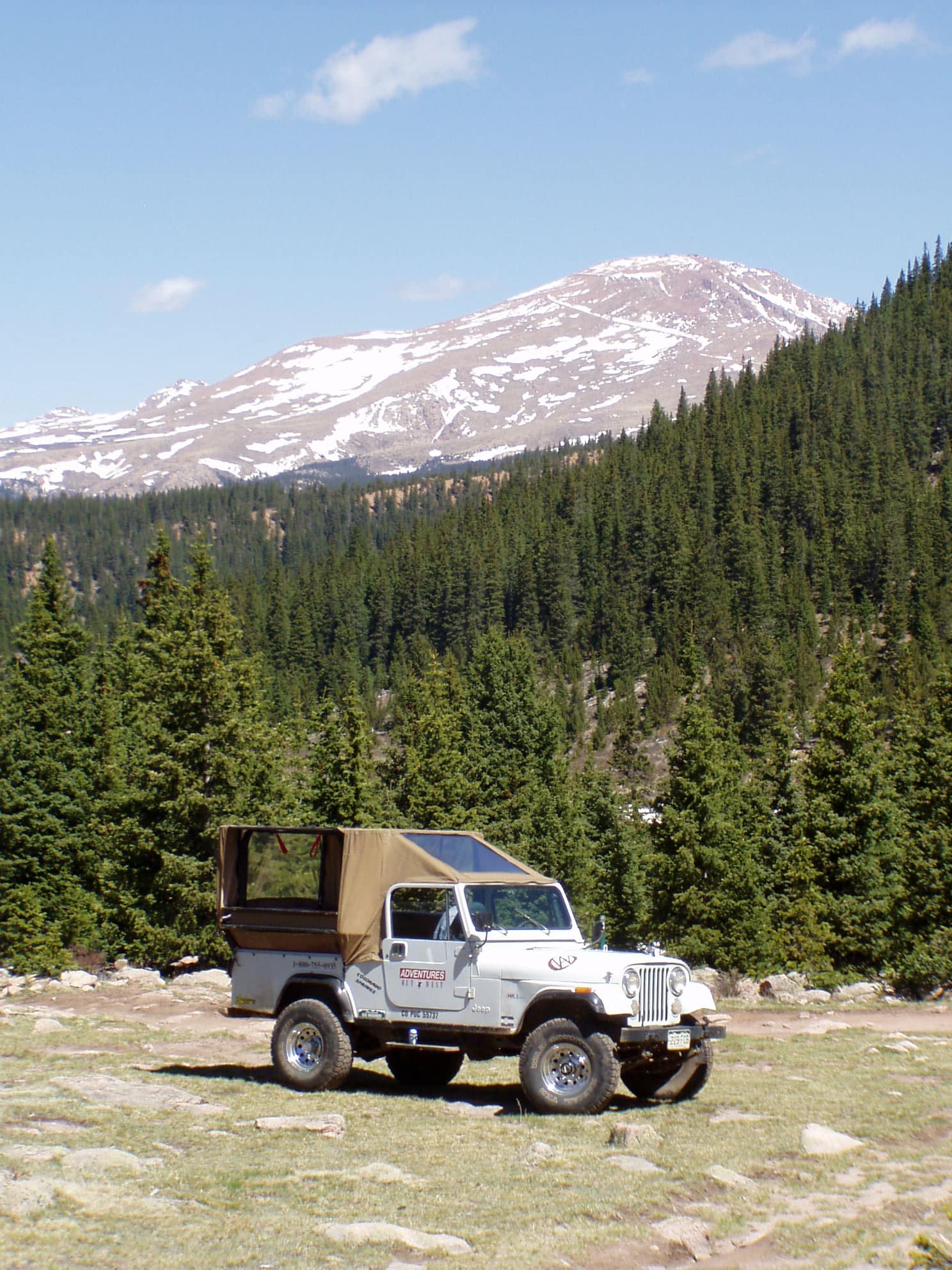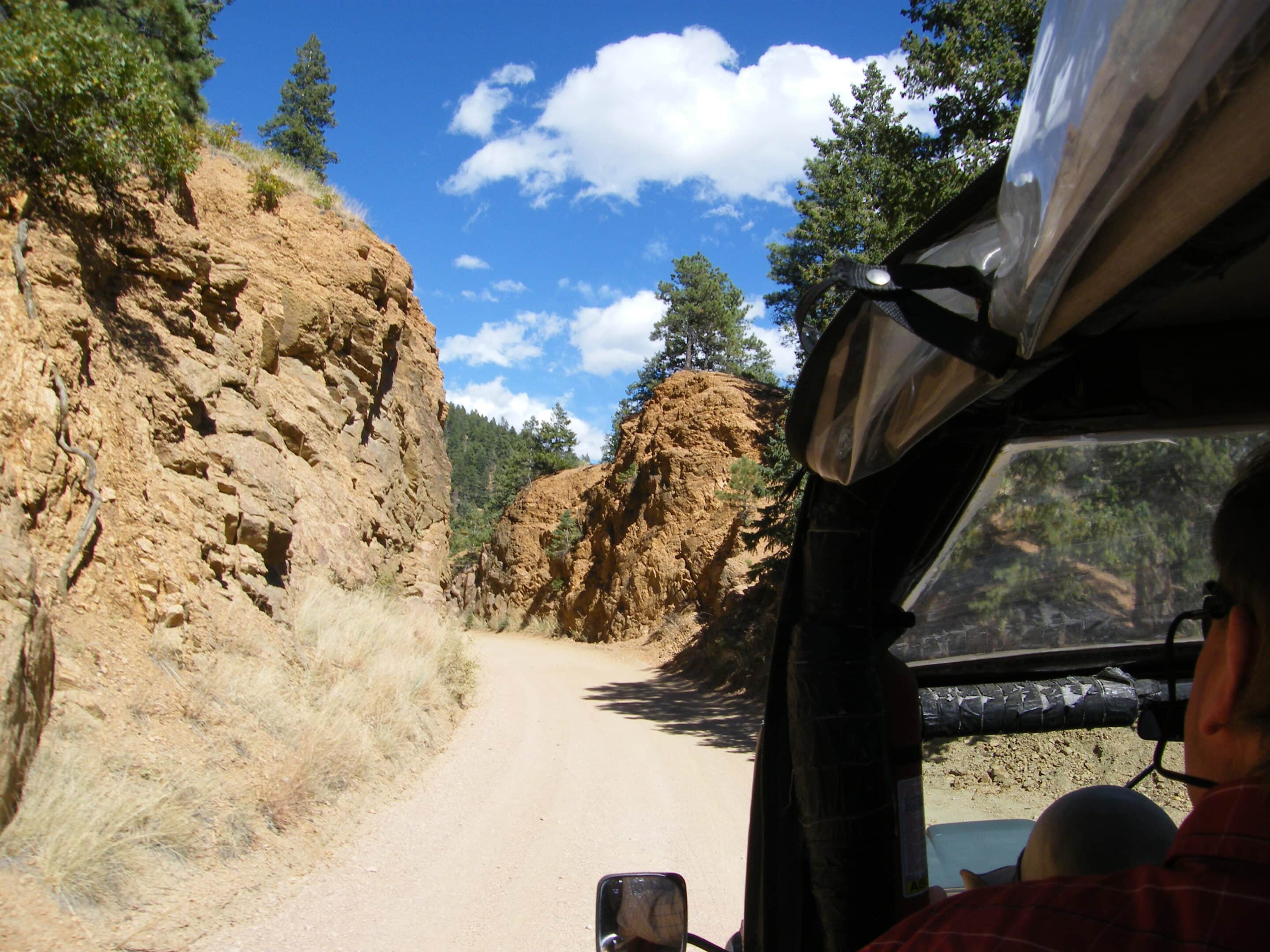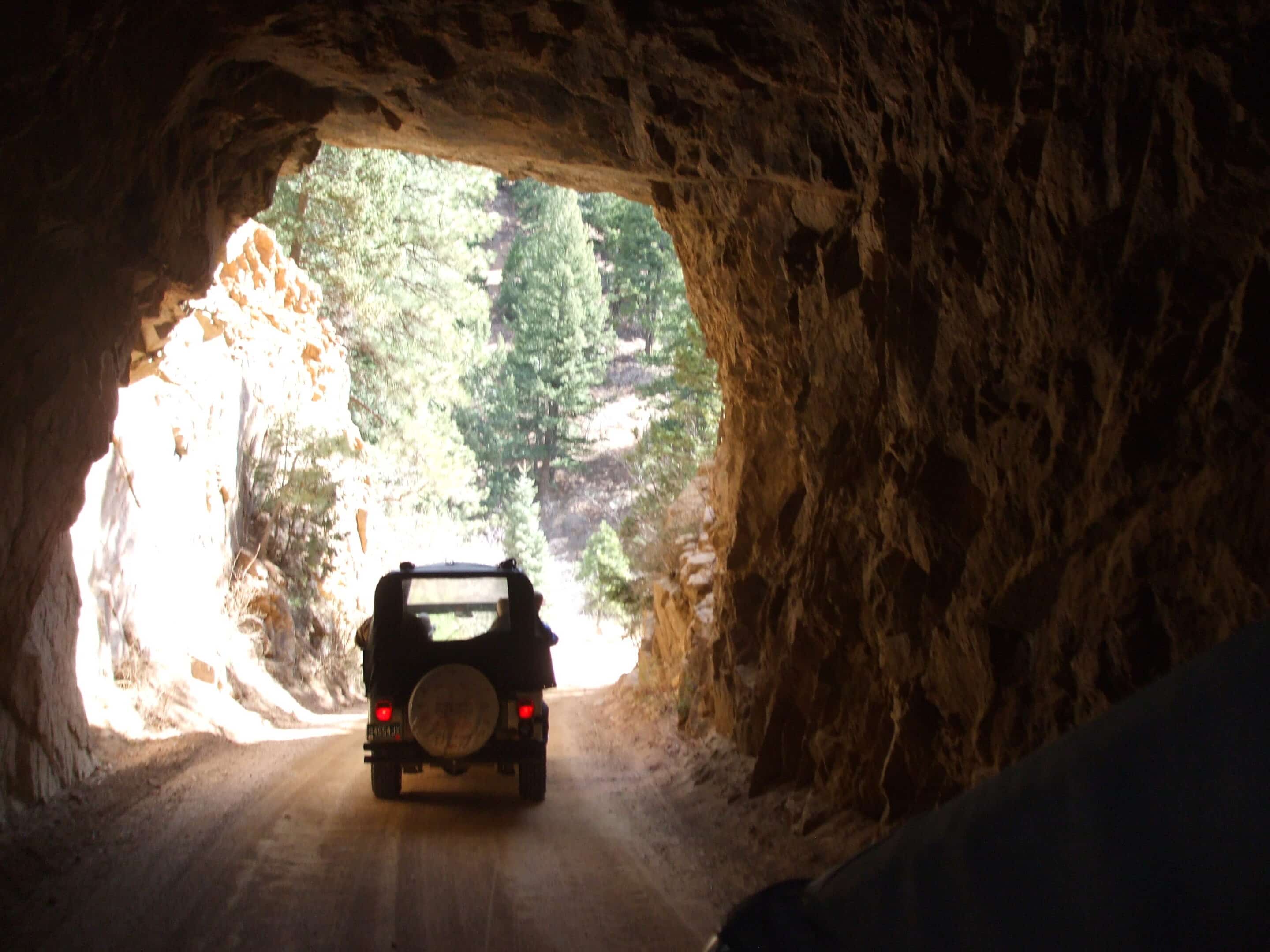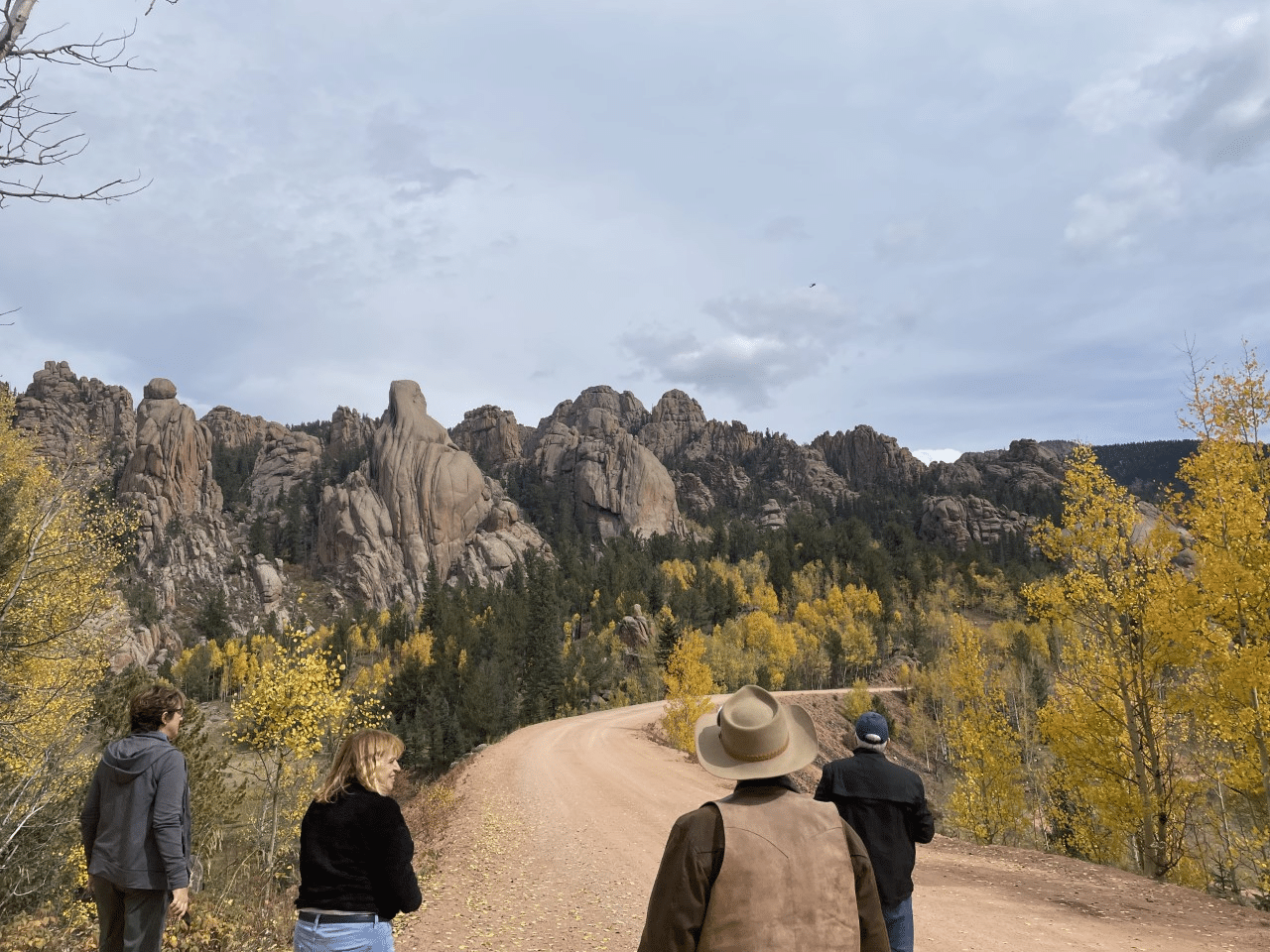 Fall Colors Jeep Tour
$699 per Jeep. Hold 5 guests.
5-hour tour including lunch.
Limited time tour! Runs from Sept. 25th through October 14th.
Photographers, nature lovers, and admirers of beauty worldwide! Come and see the limited time views as the mountains "show off" their majesty.
See Old Stage Road, train tunnels, aspen groves, mining towns, and the new "Rita the Rock Planter" sculpture by Sculptor Thomas Dambo.
Tour Details
This is AOW's most requested and highest-rated tour! Take a personal ride with a Western tour guide into the scenic mountains of Colorado.
The leaves are starting to change color, and they usually stay that way for just a few weeks. The best times are estimated to be from September 25th through October 7th, with great views still available through the 14th.
You will get views beyond belief as you drive on dirt roads through aspen groves, train tunnels, canyons, and mountain passes. Other sights include Cathedral Park, about which Teddy Rosevelt was quoted saying it "bankrupts the English language." The gold mining towns of Victor and Cripple Creek, and the new "Rita the Rock Planter" sculpture by Sculptor Thomas Dambo!
You will stop in the pleasant town of Victor at a German Bakery for a sandwich on fresh baked bread.
Approximately 5-hours total.
Our Forest Service Permit allows us to go off-road, cross streams, explore tunnels and visit townsites of the Old West. The temperature drops as we ride into the mountains, so bring layers or rely on the provided wool blankets and Columbia summit parkas.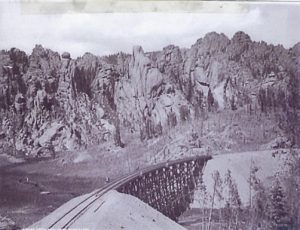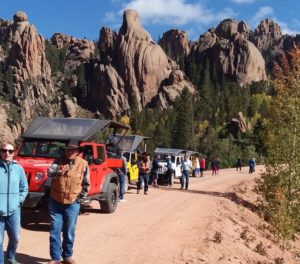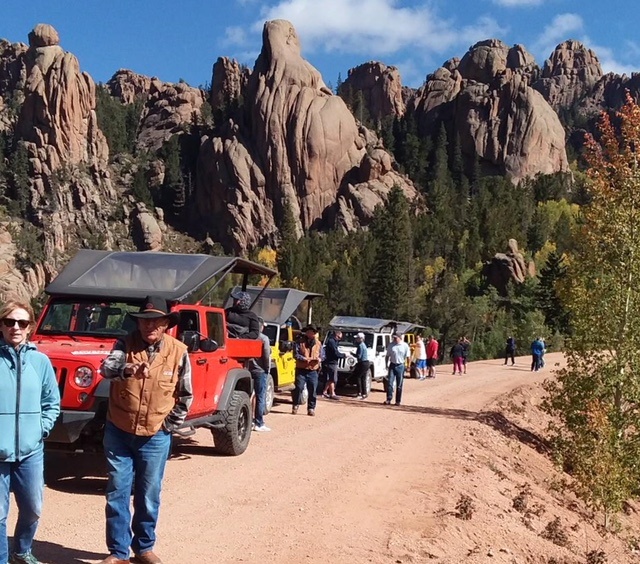 Cathedral Park- 1892 and 2018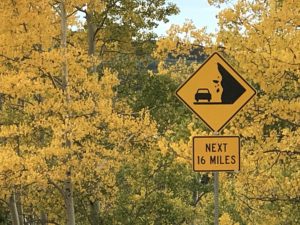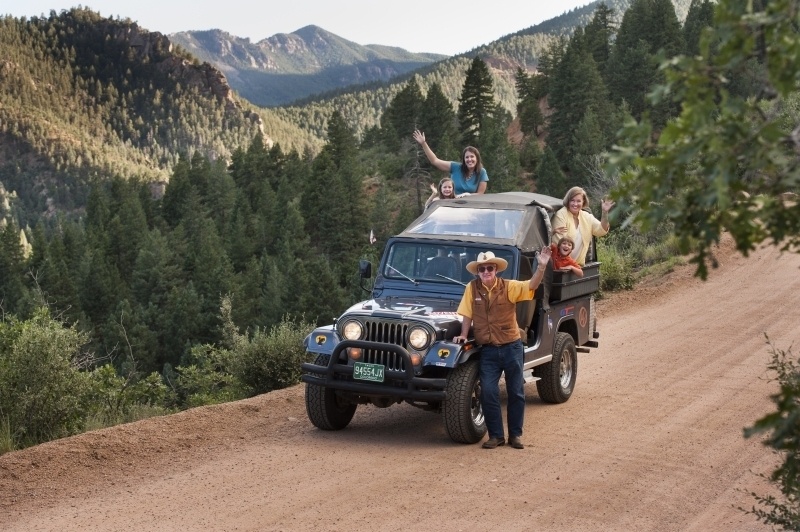 Garden of the Gods Foothills
$98 per adult. $68 per child under 12 years old.
Make it a private tour for +$99.
Your GOG Foothills Tour highlights Colorado Springs most well-known landmarks: the Garden of the Gods, Cheyenne Canyon, Helen Hunt Falls and Manitou Springs.  Colorado History, Railroad Tunnels and amazing scenery will provide an adventure you'll never forget.
2 .5 hrs
Tour Details
Our most popular Jeep tour.  This historic sight-seeing adventure is a great way to enjoy and learn about the Pikes Peak region! Our entertaining and informative cowboy guides take you on a journey through time in the foothills of Pikes Peak.  The tour highlights western scenery and some of Colorado Springs' most famous historical sights. Attractions include North Cheyenne Canyon, (Helen Hunt Falls – Closed through May 2021), the Shortline Railroad and its 100-year-old tunnels, Old Colorado City, Manitou Springs, and the spectacular red rock park, Garden of the Gods. In our open-air Jeeps, your photo opportunities are unobstructed! This tour is about 70% on paved roads and 30% on dirt and is offered year-round. Includes wool blankets, rain ponchos, emergency water and snacks, and the best cowboy Jeep guides in The West!!
Due to the growing popularity of these locations, the ability to stop and get out may be restricted.  Your guides will their best to provide photo stops and leg stretching opportunities as they present themselves.
On charter tours, your western tour guide will take you to all the best sights in the area, and you can choose to substitute other areas to make the perfect adventure. Some additional options are portions of Pikes Peak, the Olympic Training Center, Red Rock Canyon, Old Colorado City, or choose your own.
Our guide was great and the scenery amazing…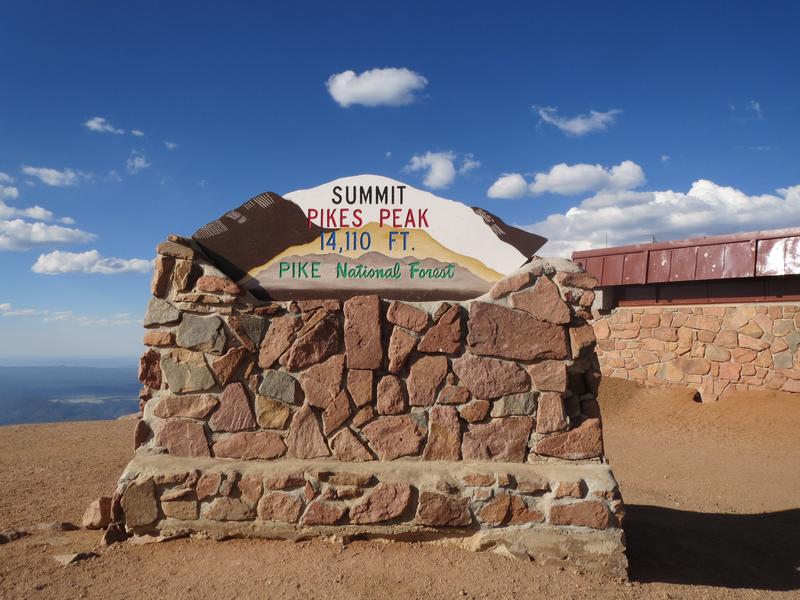 Pikes Peak or Bust, Summit Tour
$149 per person.
Make it a private tour for +$149.
4-hour tour.
Come see Americas Mountain! Your tour guide will do the driving up to 14,115 feet in elevation. See the brand-new summit house at the top of the world.
All inclusive
Wool lap blankets
Heated seats
Summit Coats
Emergency supplies (Water and snacks)
All Hwy Fees
Views for 100 miles
Tour Details
See all of America's mountain on this adventure to 14,115 feet! The tour is offered in the mornings to take advantage of the best views and weather Pikes Peak can offer, and to avoid the traffic. Your professional cowboy Jeep guide will make you feel at ease on this Highway to the Clouds. The 19-mile drive reaches the summit where you can soak in the extraordinary view that inspired Katharine Lee Bates to write "America the Beautiful"!  After spending some quality time at the top, climb back into the open-air Jeep and descend this famous mountain. Nineteen miles of historic Rocky Mountain roads, beautiful reservoirs, and overlooks that will leave you stunned. Includes heated rear seats, wool lap blankets, Columbia Summit Parkas and a souvenir tubie. Not to mention the best cowboy Jeep guides in The West!!
Please visit our Pikes Peak Summit link for additional information.
I had done Pikes Peak before but this tour was way better because I could watch the scenery instead of the road.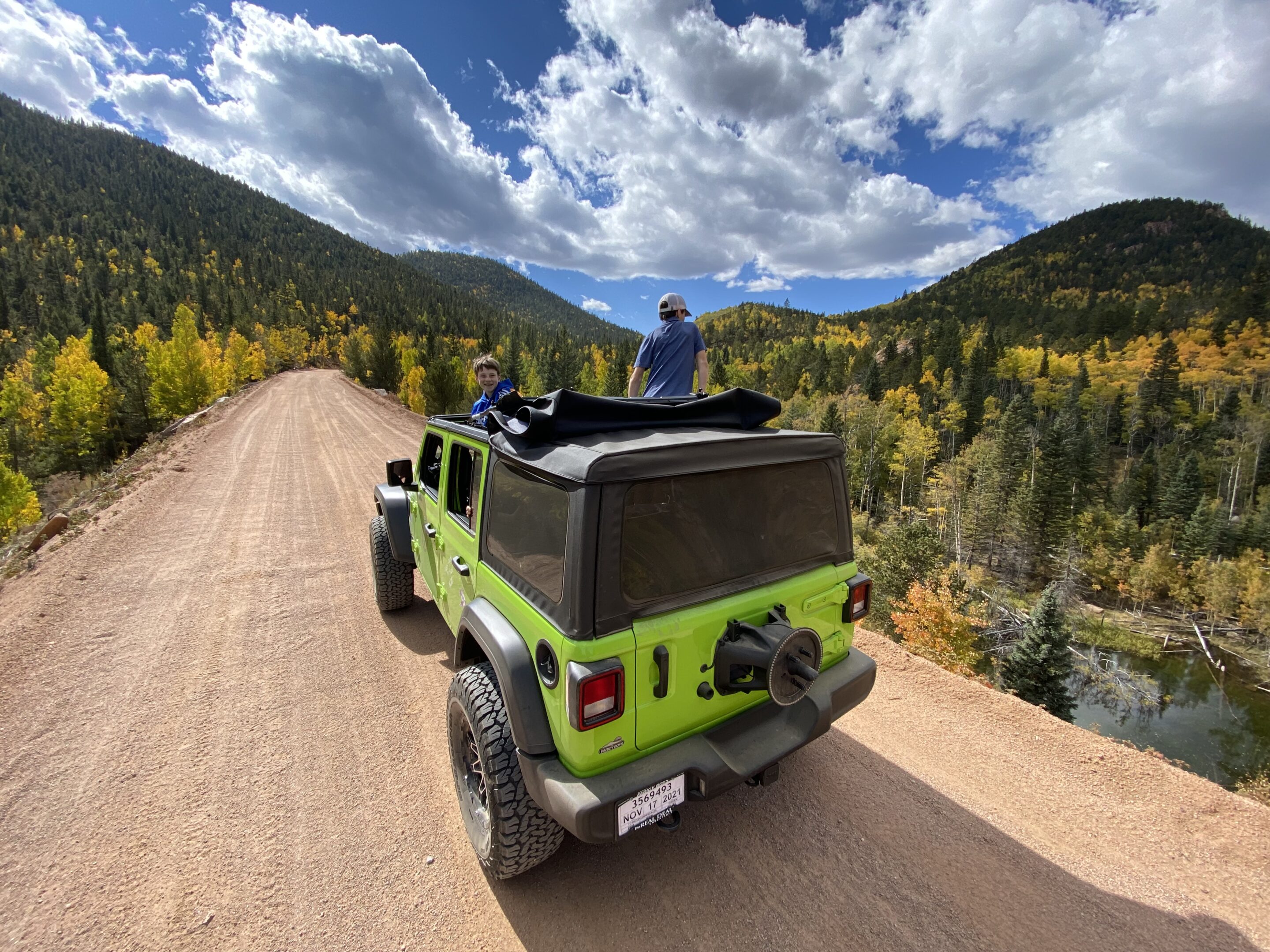 Old West High Country 4x4 Tour
$149.00 adult or $99 Child.
Make it a private tour for +$149.
Pike National Forest Off-Road Adventure.
Incredible scenery, 4×4 dirt roads and Jeep trails, aspen groves, train tunnels, and mountain views. If you like high adventure and want to see the old West as it was during to Gold Rush, then this is the tour for you.
3 hrs. Weekdays Only
(Upgrade to a half-day  with lunch, Charter rate $699)
Tour Details
You've struck it rich on this 3-hour tour through the Pike National Forest to spectacular Windy Point or Cathedral Park.
Need more adventure?  Upgrade to a 1/2 day Charter through the mining town of Cripple Creek with lunch in Historic Victor.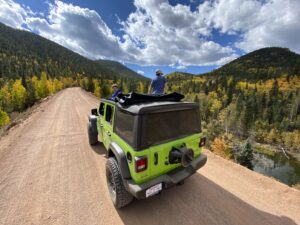 A High-Country Jeep Tour is the epitome of Colorado Adventure.  Since the 1850's explorers have traversed Pikes Peak in search of Gold and a better life.  Your tour will highlight this history and follow the Short Line Railroad. President Teddy Roosevelt once embarked upon this route proclaiming, "The scenery bankrupted the English language."  Our Forest Service Permit allows us to go off-road, cross streams, explore tunnels and visit townsites of the Old West.  Plan 3-3.5 hours and dress appropriately for this awesome adventure into the Colorado High Country.  This tour only runs on weekdays.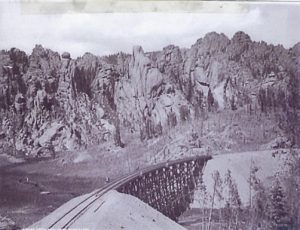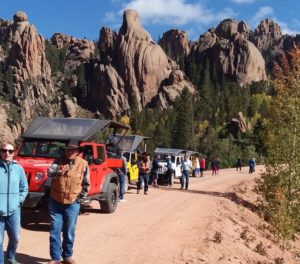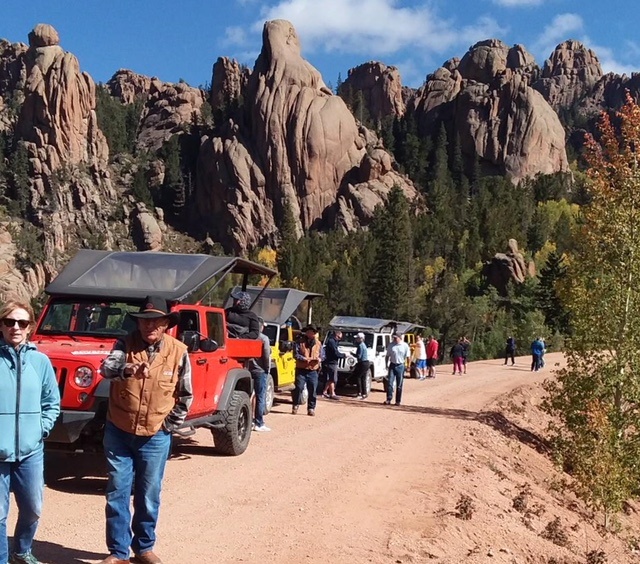 Cathedral Park- 1892 and 2018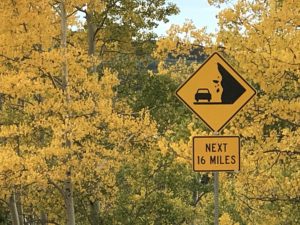 This is a Railroad Buffs dream tour through history.
"This scenery bankrupts the English language"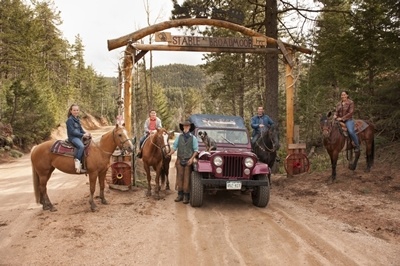 Jeep and Horseback Combo
$159 per guest
Our cowboy Jeep guide will take you on a scenic journey to the Old Stage Riding Stables for a one-hour mountain horseback ride! Enjoy the beauty of the historic Old Stage Road from an open-air Jeep and let the AOW vehicle take the wear and tear.  *Weight limit 220lbs
2.5-3 hrs
Tour Details
The Jeep and Horse tour combines the best of both worlds; experience a modern 4×4 Jeep adventure, then ride on horseback like the cowboys did on trails dating back to the 1800's.  Take in the splendor of the rugged Old Stagecoach Road in an open-air Jeep built for the terrain. Our cowboy guide will take you on a scenic journey to Old Stage Riding Stables for a one-hour alpine horseback ride!!  Enjoy stunning views, well trained horses and breathe in the fresh Rocky Mountain air of the Pike National Forest on this small group ride. You may even get to see buffalo and elk!!  Following the horseback ride the adventure continues.  Your Jeep guide will enlighten you with tall tales and true stories of the Old West on our return to town.  This is an awesome adventure. Try it for yourself!
* The road to the stables is rough, steep and has large drop offs, some people turn back.  Let our AOW 4×4 take on the road so you can focus on the fun.
* Strict weight limit, 220 lbs max.  All riders are weighed at the stables.  No refunds will be issued for riders over 220 lbs.
* No riders under 7 years of age.
* Guests who want to come along but not ride horses are welcome.  Tour rate $89.00.  Call to book.
Sample itinerary
7:35 AM – Check-in for your tour.
7:50 AM – Depart AOW HQ.
8:00 AM – Depart the Broadmoor Hotel.
8:30 AM – Arrive at the stables for check-in.
9:00 AM – Hit the trail for a 1-hour scenic ride.
10:00 AM – Feed the horses and share awesome stories.
10:40 AM – Return to the Broadmoor.
10:50 AM – Return to AOW HQ.
We decided to add a little adventure to our lives and the Jeep and Horseback tour was perfect.  Let AOW do the driving.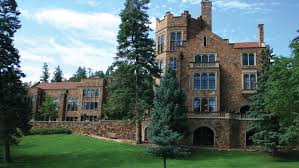 The Circuit Rider Faith Tour
$450 – Private Jeep Charter. Up to 5.5 guests or 950 lbs total.
A spiritual journey through time with AOW's own Circuit Rider.  See, learn and experience the unique Christian history of Colorado Springs on this empowering tour.
3 hrs
You must call to book this adventure.
Tour Details
Pioneering ministers of the West were known as Circuit Riders.  Some rode horses and others used skis but all carried the Word of the Lord.  Our city founder General Palmer laid the foundation for Colorado Springs on biblical principals.  Free land for churches and strict rules against alcohol, his city was to be fit for the King.
Your tour will see many of the magnificent churches built around our town as well as the Castle of General Palmer.  Time for fellowship, reflection and fun, fills the tour schedule. All trips include the stunning overlook of Garden of the Gods.
This tour is by reservation only and not available on Sundays.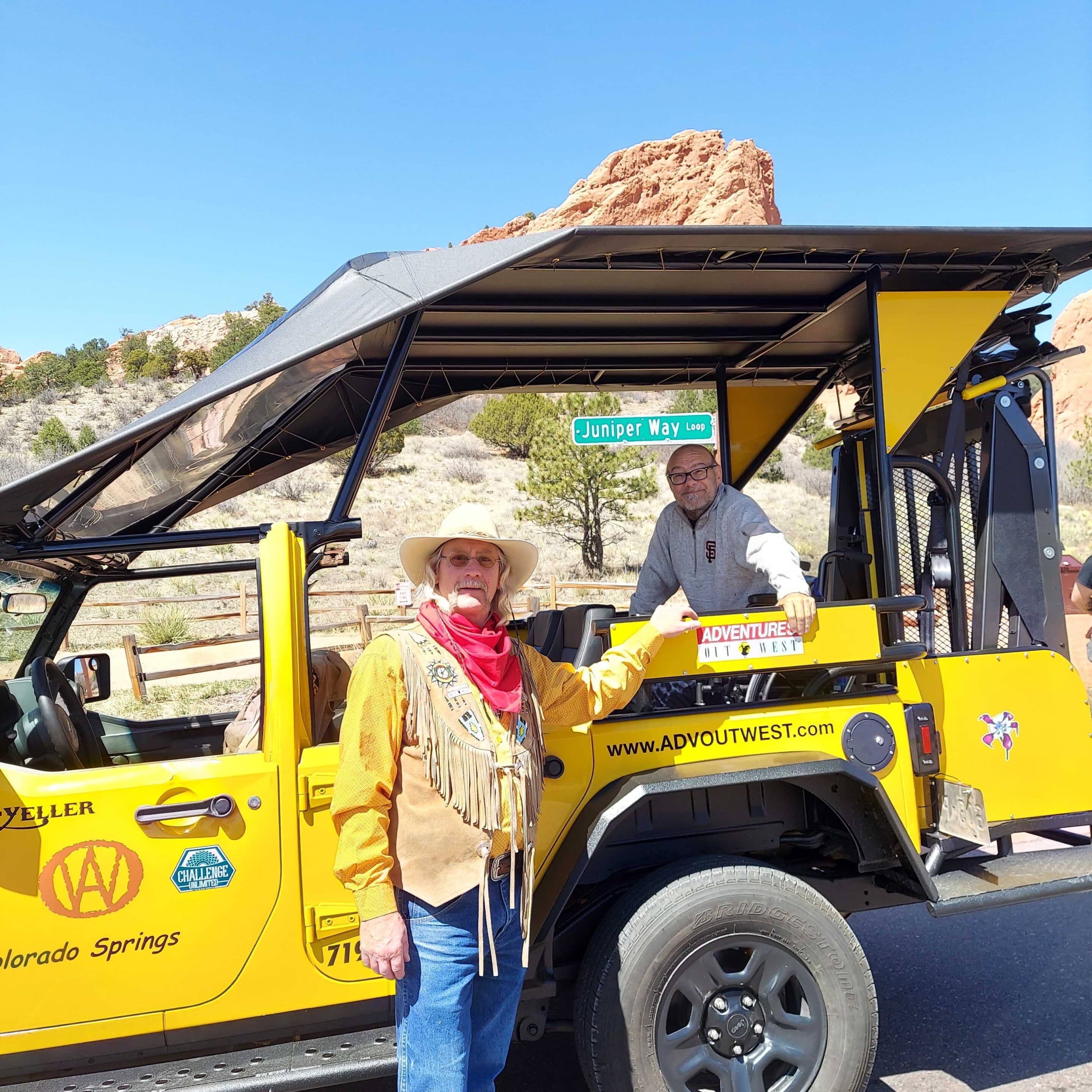 Wheelchair Accessible Garden of the Gods History Jeep Tour.
$50 per person.
Adventure is for everyone! Come see the beauty of the Garden of the Gods Park and Colorado.
Holds 1 wheelchair seat and three standard seats.
Other tours are available by request.
Tour Details
Introducing the Ultimate Wheelchair-Accessible Open-Air Jeep for your Garden of the Gods Adventure!
Experience the awe-inspiring beauty of the Garden of the Gods Park like never before with our revolutionary Wheelchair-Accessible Jeep! We believe that everyone should have the opportunity to explore and embrace the wonders of nature, and our purpose-built vehicle ensures that no barriers will hold you back.
Ignite Your Adventure with These Incredible Highlights:
Unleash Your Spirit of Adventure: Our Wheelchair-Accessible Jeep is designed to take you off the beaten path and onto the exhilarating roads of the Garden of the Gods Park. 
Accessibility Without Compromise: We understand the importance of inclusivity. That's why our Jeep is meticulously designed to accommodate individuals with mobility challenges, ensuring that no one misses out on the Garden of the Gods Park experience. Our expertly engineered wheelchair ramp provides smooth and safe access, allowing you to embark on unforgettable journeys with ease.
Comfort Redefined: Say goodbye to uncomfortable rides! Our ADA Wheelchair-Accessible Jeep is equipped with state-of-the-art suspension and ergonomic seating, guaranteeing a smooth and enjoyable adventure. Revel in the beauty of the Garden of the Gods while experiencing maximum comfort throughout your journey.
Unparalleled Safety: Safety is our top priority. Our ADA Wheelchair-Accessible Jeep is built with advanced safety features, including secure harnesses and reinforced construction. Rest assured, you'll be well-protected as you immerse yourself in the awe-inspiring sights and sounds of the Garden of the Gods.
Knowledgeable Guides: Our friendly and experienced guides are here to make your visit extraordinary. They possess in-depth knowledge of the Garden of the Gods Park and will accompany you on your journey, providing fascinating insights into the geological wonders and historical significance of this magnificent destination.
Don't let accessibility limitations hinder your desire for adventure. Join us and unlock the Garden of the Gods' wonders with our ADA Wheelchair-Accessible Jeep! Book your journey at the Garden of the Gods Visitor & Nature Center and create cherished memories that will last a lifetime.
1.5-hours long.
Departs from the Garden of the Gods Visitor and Nature Center.
3 standard seats and 1 wheelchair seat.
Works with traditional chairs, as well as many powered models.
Longer tours and other routes are available by request.
Note, this tour is for those that need an accessible Jeep. Please do not book this tour if you don't use a wheelchair. If you show up without one, your tour will be cancelled without a refund.
First day out with our wheelchair access Jeep and the first rider. He was so happy we built this Jeep for people like him! The gentleman in the wheelchair said he felt like a king sitting up in his chair.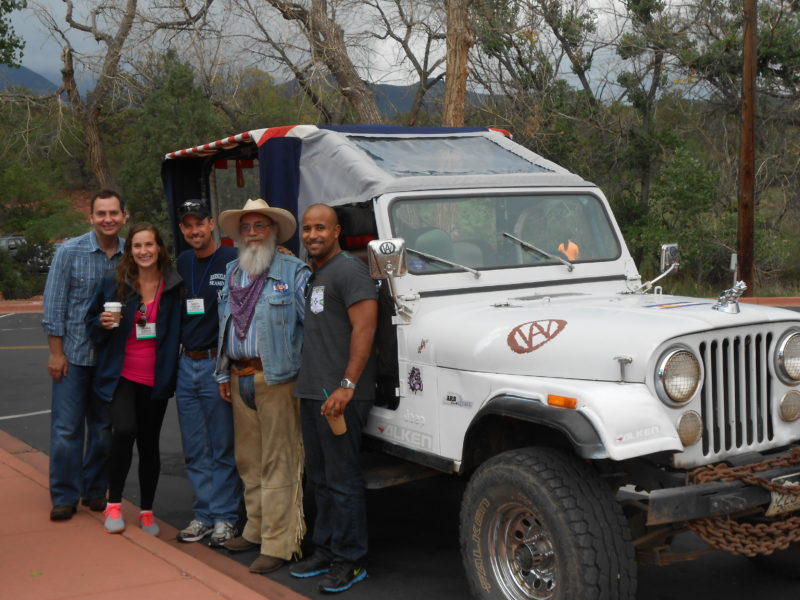 Group Jeep Tours
AOW offers customized adventures for you and your team.  Family Reunions, Corporate Team building, Scavenger Hunts, Unique Party Transfers…. AOW has your needs covered.  Our online bookings are limited to 5 guests to ensure safe loading.  If you have a party of 6 or more, please call our office to schedule your tour.  Our fleet can carry up to 100 people depending on the time of day.
Call us for more information.
Environmental Fee
Adventures Out West has a 4% Environmental fee to help support Partners and Friends of AOW!
 Thank you Adventures Out West for all your generosity